Taking a road trip in the summer is ideal because of the pleasant weather and longer days. It is impossible to avoid driving with pets when going on a long road trip. Also, if you are planning international travel with pets, you may find these tips helpful.
Animals play an important role in the lives of many families, and always will. Pets provide their owners with comfort, companionship, entertainment and exercise. Our furry friends' importance in our lives makes driving with pets crucial.
It is no surprise that pet ownership levels in the United States have grown. Around 67% of American households owned a pet in 2019, an increase of 11% since 1988. This explains why Americans spend nearly $93 billion a year on pet food and pet travel USA.
The most common pet in American homes is still a dog, followed by a cat and a fish. Congratulations on owning a pet and taking the time to educate yourself on driving with pets.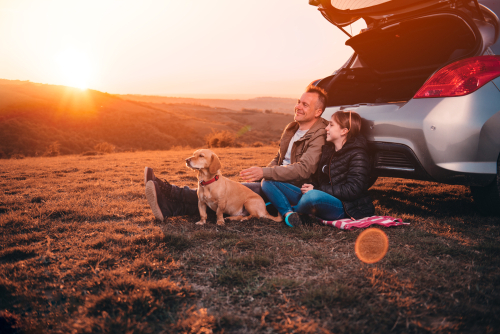 A road trip with pets that you love so much is awesome, isn't it? Leaving your pet unattended as you drive can result in unsafe driving behaviors. Distracted driving time and can cause stress for you and your four-legged companion.
Take care of your safety when driving with pets, and be aware of the challenges. Planning and preparation are always essential when traveling with your furry friends. Here are some tips to ensure a happy and safe trip for both you and your pet when driving with pets.
What Do I Need to Prepare for Before Driving With Pets?
Besides discomfort, a pet traveling by car can be restless, hot, and it can become car sick. In particular, cats have a hard time with anxiety and are reluctant companions in a car. Besides, planning ahead can keep your pet safe and you can enjoy car rides with them.
Avoid leaving your pet in a parked vehicle alone
A closed window or the sun can turn a parked car into an oven during the summer. Leaving your pet alone in the car poses a threat to not just their health, but also their safety.
Don't feed your pet while driving
If you are driving with pets, do not feed them while the vehicle is moving. As tempting as it may be to give your pet a french fry, or a bite of human food, pets can get motion sickness. When on the road, feeding your pet greasy fast food can cause serious stomach upsets.
Make sure your pet is identified
When driving with pets make sure that your pet is microchipped for identification. Identification will help you find them if they go missing. Your pet should also wear a temporary travel tag. Imprint your cell phone number and destination phone number on the tag.
Use a pet carriers
When driving with pets they should be in a crate or carrier. Pet carriers protect pets from sudden stops and keep drivers from being distracted. Choose a pet crate that gives your furry friend plenty of room to move around.
Don't forget pet supplies
When driving with pets, remember to pack the right supplies. A comfy bed for dogs and cats, as well as their favorite blankie will make them feel a little more comfortable. During the trip, have some new and old toys in the car to keep your pet distracted and busy.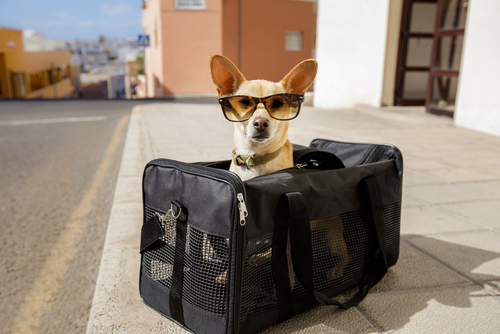 Pet Travel USA: Preparing your furry friend for the road trip
Different states have different laws regarding driving with pets. You should keep your pet safely in the back of your car, but not in a truck bed or other open space.
When driving with pets, avoid activities that can distract you and cause accidents. Having a furry friend on your lap could result in steering wheel and pedal issues, which can be dangerous.
Consider tips to have an easy trip when driving with pets, as it's important to feel safe and comfortable. These tips on how to care for your pet will help you have a fun journey:
When traveling long distances, consider regular bathroom and exercise breaks
Start with short, local trips if your pet is easily stressed by long trips. This will allow your furry friend to get used to the car, the smells, and the noises.
Keep your pets on a leash outside the car so they won't get into trouble
Be aware of the highway code and use restraints when driving with pets. Harnesses are useful for keeping dogs in place, but not for other pets.
Use blankets or protectors to protect car seats.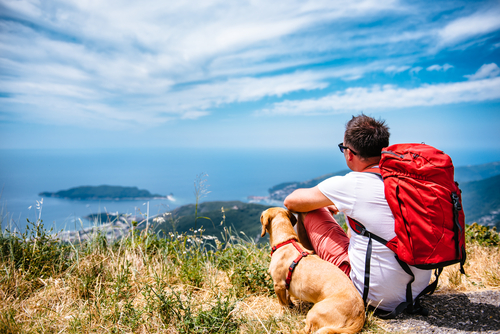 Prior to driving with pets, take your furry friend for a walk to tire them out.
Always give your furry friend ample time to get into their carrier. Although the return trip should be more comfortable for your pet, the cage might still scare them. Be gentle and be patient.
Top Tips for Driving with Pets and International Travel with Pets
While driving with pets, whether for pleasure or necessity, prepare for their needs. Your pet's safety is a priority when traveling in a car. During your trip, you won't be able to get everything they are used to at home.
When on international travel with pets, you want the most safe and comfortable road trip. The following tips can help you have a stress-free road trip with your dog or cat.
Pack a pet travel kit
Make sure you include proof of your pet's immunizations in their health records. Don't forget to provide water, food, medication, and bowls for your pets. When driving with pets remember waste bags and a scoop, and include supplies to clean up after your pet. Also remember to bring a first-aid kit for your pet.
Does your dog like to stick his head out of the car when you are driving?
It is adorable to watch dogs stick their heads out of windows. But you may throw your pet out the window if you suddenly slam on the brakes or turn. It is safer for your dog to keep its head out the window when driving.
When driving with pets have pet travel documents ready
Keep important documents about your pet with you. International travel with pets requires rabies vaccination as well as a health certificate. Pet travel documents are important, when you have a car breakdown when driving with pets.
Keep your pet calm
Keep your furry friend calm by giving them as much affection as possible. You can give your pet a pheromone calming collar if you feel that it will help to decrease anxiety. Any anxiety medications that you use for your pet should be tested before driving with pets.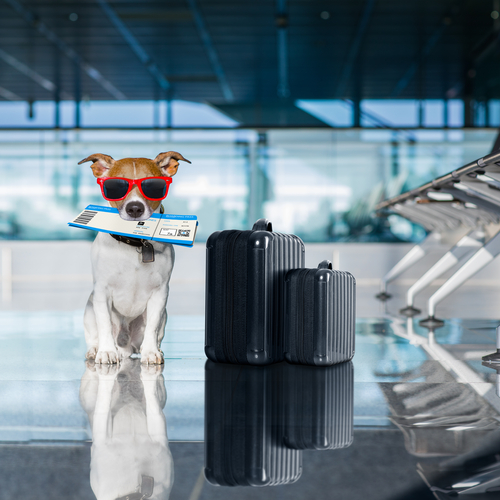 How Do You Handle a Break Down When Driving With Pets?
One of the dangers of driving with pets is a breakdown along the road. You don't want your pet to get stranded if you break down. So what should you do with your pets when your car breaks down? When driving with pets, these tips will help you handle a car breakdown.
Don't panic.
Make sure your pet is secure and comfortable.
Call a breakdown company.
Make the breakdown company aware that you have pets in your car, and how many.
A breakdown company will transport your pet if your car breaks down and you need to be transported.
Use pet travel carriers, or restraints that are transferable. Transferable restraints will ensure that your pet is transported safely
Unless there are specific safety reasons not to, guide dogs can travel with their owners
After giving the breakdown company your details, they can then give you guidance on what to do next.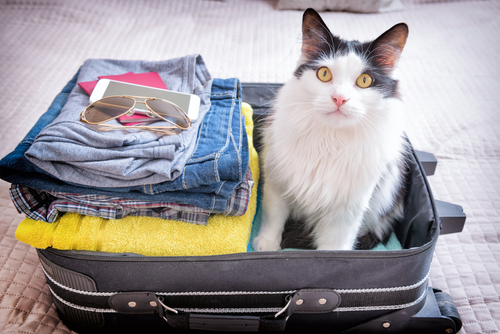 Make sure you're prepared for a breakdown
In the event of a breakdown of your vehicle, you can protect your pets if you plan ahead.
In your vehicle, keep a safe, well-ventilated crate or carrier.
Make sure you have water, food, and waste bags on hand.
If your vehicle breaks down, take your pet to a safe location away from any traffic.
Avoid the Risk of Breakdowns on the Road When Driving with Pets
By identifying the dangers of driving with pets and the risks of driving with pets you can prepare for a safe trip. Make sure that comfort is a priority when driving with pets
Driving with pets in the car can be nerve wrecking for some, but it doesn't have to be. You may be concerned about things like your furry friend getting ill in the car or a breakdown on a long trip.
Before driving with pets, have your vehicle serviced and have any mechanical faults fixed. Neither you nor your furry friend want to be stuck on the side of the road waiting for help to arrive.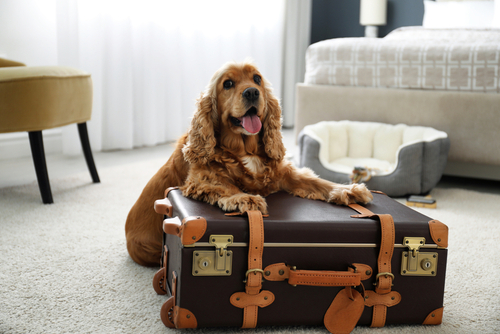 Or you could consider renting a car when driving with pets for both your safety and theirs? With the right rental you can avoid your car breaking down and enjoy a safe road trip. Many car rental companies cater to people who are considering driving with pets.