Renting a car for the first time is a milestone experience. It creates a world of possibility, whether you have your own car or not. Similar to booking an airline ticket or a hotel room, there are some pitfalls to avoid if you're new to car rentals.
Booking a car rental is a pretty straightforward process with low to now risks. However, we thought we'd share some tips to make your first time car rental experience a pleasant one.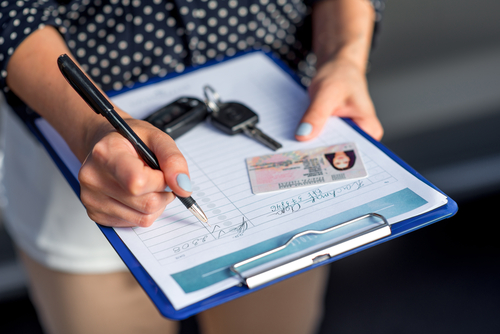 Key to (easily) renting a car for the first time: It is important to note that there are two types of rates – pay on pick up, or prepaid. It's usually better for first timers to opt for the pay later rate. There's usually no cancellation policy with this option if you change your mind.
Respect pickup times. The reservation is guaranteed for the pickup time only, and the rate might change if you show up early or late. To avoid confusion, be sure to ask exactly where to go to collect the car. Likewise, respect return times. The office will not stay open if you don't return the car by closing time.
You will need to present your confirmation number, a valid credit card, and your original driver's license when you pick up your car rental. The credit card cannot be prepaid, and you can expect a few complications if you choose to pay by debit card, and cash doesn't work. They will put a hold on your credit card for the hold period. It could easily range from a few hundred to a few thousand dollars.
Many people overpay on insurance when renting a car for the first time. Why? Because when you read the rental contract, you will see a lot of content covering what you should expect in the event of an accident. The basic protection offered doesn't cover everything. Instead, do your homework. Speak to your own auto insurance company to find out if you're covered for rental cars. Also check your credit card; some contracts cover rental cars.
You'll pay a deposit. If you have additional insurance, you can sometimes get away with a lower deposit.
Check your loyalty rewards programs. Most car rental companies offer exclusive deals through memberships to external loyalty programs, and often their own as well.
Say no to unnecessary extras. Salespeople tend to know exactly how to pitch the extras, but don't take it if you don't need it. Most car rental companies offer satellite radio, pre-paid fuel, toll passes and much more. However, the costs are often inflated.
You may have to pay extra if you're sharing driver's duties, or if you're under the age of 25.
You may not get the car you booked. You'll see that most listings are appended with "or similar". That means you will get a car with the same (or better) specifications. They'll either give you a car with the same amount of luggage space, seating, and MPG, but from a different brand or model.
Do take child seats and roadside assistance, unless you have your own.
Inspect the vehicle before driving off the lot. Take a good look (and pictures) of the car's interior, exterior, and glass. If there's any damage or scratches, point them out to the consultant and make sure that it goes on the record before you drive away.
Take photos of the car when you return it to the lot to prove that you did not damage the car, in case a claim ever arises.
If something happened to damage the car during the rental contract period, you will have to file a Condition Change Report. Take photos of the extent of the damage if you damaged it or if you're not sure what happened. If you have an official accident report that shows someone else is 100% at fault, you should hand that in, otherwise, the rental car company will come after you for damages. Some companies allow clients to settle small claims cheaply when they return vehicles.
Plan to return the car rental during the company's official business hours. Some companies do allow after-hours returns, whereby you park the car in the lot and deposit the keys in a box. However, the vehicle will only be logged as returned during the next business day. You might end up paying more than you had budgeted, because you're responsible for the condition of the car and daily fees until the office reopens and they check the vehicle in.
Fill up the gas tank. Most companies offer the option to rent a car with a full fuel tank of fuel. However, experienced renters know that it's wise to reject that option, and rather find a gas station within a few miles of the rental car office. If the tank is not full, you will be charged between $7-$10 per gallon for refueling.
Be sure to get a receipt that shows that the vehicle was returned, including the date, time, fuel level, and odometer reading.