Spring Break 2020 is here! Depending on when school starts, you still have some time to plan an epic trip to the perfect destination in the US. It's your opportunity to let off steam before you head back to the stress of exams and graduation. In this post, we'll talk about what you should look at when choosing a spring break destination.
Top Tips for Choosing Spring Break Destinations
Some of the coolest spring break destinations include Jamaica, Turks and Caicos, Aruba, Montego Bay, the Bahamas, and Cancun, but you don't need to break the bank to enjoy an awesome seaside break. The United States has some truly awesome options available right here in our backyard.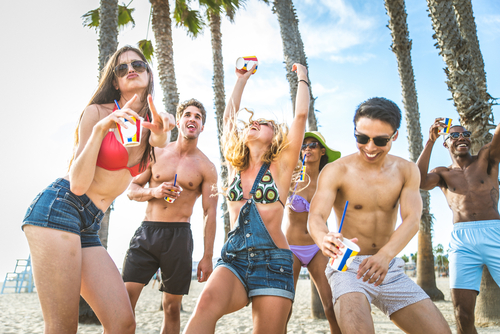 What to look for in a spring break destination? Let's show you:
#1 – Warm weather. Obviously, that's why most people opt for beach getaways. But skiing is also an option. March is a great time for off-peak hotel rates.
#2 – Travel time. The Coronavirus has put a spoke in the wheels of international travel, but that's okay. Would you rather spend more time traveling, or enjoying your vacation? When it comes to spring break destinations, we're all for finding short trips. Don't waste your time driving there. You could rather fly and rent a car from the airport. This will give you freedom to explore the place at your leisure and you won't have to buffer your holiday time with travel time. Still lost for a destination? Check for direct flights and duration on Skyscanner.
#3 – Affordability. Selecting the right spring break destination involves choosing the costs of travel, accommodation, food, and activities. Some international destinations offer all-inclusive packages, which makes it easier to budget. You could also buy a spring break package from Statravel.
10 Cheapest Destinations
Now that you know what to look for, let's take a look at this year's top cheap spring break destinations.
Washington D.C. – The city offers an abundance of cultural attractions and free events, such as the Cherry Blossom Festival and 19 Smithsonian museums that don't charge entry fees. 
Miami Beach – With hotel options to suit every budget, wide shorelines, the Ultra Music Festival and Miami Beach Pride, it's a great option. 
Southern California – Wildflower season (spring) is a great time to visit Malibu, Antelope Valley, Palos Verdes, Palm Springs, or San Diego. Whether you're into people watching or soaking up the sun, there's enough to enjoy.
Florida – While the top amusement parks in Orlando will be packed at this time of the year, airfare is cheap and offers plenty of recreational options. Be sure to add an Everglades Tour to your itinerary.  Tampa Bay is another popular Florida spring break destination for foodies, nature lovers, and sun worshippers alike. 
Pacific Northwest – Portland and Seattle are two other affordable destinations that offer plenty of amusement, including the University District Street Fair, Emerald City ComicCon, Seattle Restaurant Week, and Portland Rose Festival. 
Arizona – If you're keen on some good weather for outdoor enjoyment, Scottsdale and Sedona are not all that crowded yet. Phoenix is lovely this time of the year, and there's so much to door in the wild outdoors.
New Orleans – Enjoy a cultural tour of New Orleans with Big Easy swamp tours and cemetery tours.
New York – If you want to visit the Big Apple on spring break, you don't want to miss out on these top food tours.
British Columbia – Whistler in BC is the place to be when you want to ski during spring break. 
Asheville, North Carolina – This little gem of a city offers cultural, food and recreational experiences for the whole family. 
Need to rent a car? Check out our site for the latest deals from top brands.