A car is an essential tool in most parts of the United States, whether it's your own, a borrowed car, or a rental. Most people visiting areas of the US for a short time (few days, few weeks or up to about three months) tend to rent a car. But what do you need to rent a car?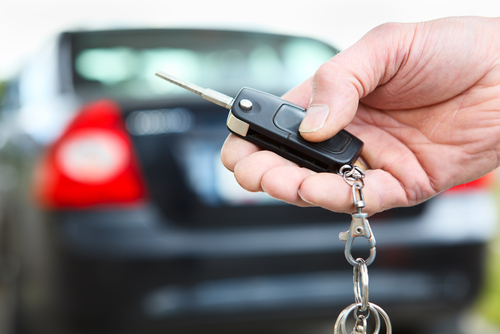 Money
The longer you rent a car, the more it will cost. However, if you need it, that's a sacrifice you need to make. So therefore, the first thing you will need is money.
Car rental rates vary by location and company, car make and model, and the extras you add to the rental contract.
Car rental reservations can typically be made on the internet, over the phone, or at a location of the company.
A Valid Driver's License
The rules pertaining to the age at which you can rent a car differ from one company to another. Some companies allow you to rent a car if you're 18-21, while other companies have a underage driver surcharge. Others don't rent cars to people under the age of 25.
All drivers must qualify independently to drive the rental car, and nobody that is not registered with the company should drive the car. To qualify to hire a rental car, you must present a valid US driver's license.
Carry your driver's license or IDP with you at all times during the rental contract period.
A Credit Card
If you don't have a credit card, most companies won't let you rent a car. The reason for this is insurance related. The company must cover themselves in the event of loss or damage. As such, they will put a hold on your card until you return the car.
In some cases, companies will allow you to make a cash deposit.
Insurance
Note that you are responsible for any loss or damage to the rental car while it is assigned to it. Likewise, you are responsible for personal injury or property damage sustained while the car is in your possession. The best way to protect yourself is to buy car insurance.
If you have existing car insurance, you can find out if you are cover for rental cars.
At the minimum, you need to purchase liability insurance in the event of an accident. Comprehensive insurance (Collision Damage Waiver or Loss Damage Waiver) will cover you in the event that you damage the rental car. Check with your credit card company whether you're covered for rental cars.
These are the four most important tools you need to rent a car. However, you should consider additional costs and ways in which you can save. Here are some tips to help you budget appropriately:
Choose the right car – from subcompact to economy, medium, full size, SUV, minivan, convertible to muscle cars, you have the world of choice. However, many rental companies put an age limitation on certain car classes.
Choose your dates carefully – Let's face it; delays happen all the time and sometimes you run late. However, that's not going to count for much if you show up late to pick up or drop the rental car back at the location.
Extras – Most car rental desks have amazingly friendly staff who are standing by to suggest all the extras you may need for your next trip. This includes, but is not limited to:
GPS navigation – Most car rental companies offer a variety of tools – such as GPS – to help you find your way around a strange city. However, you can save on this important tool by bringing along your smartphone and the Maps application.
Extra Drivers – Hitting the long road? If you need to share driving duties, consider adding one or two extra drivers to your contract so that you can take turns. However, note that there's an extra fee involved.
Most modern car rental companies offer a vast range of newer model cars with low mileage for rental. Roadside assistance is usually a part of the package.