Need to travel from Atlanta to Savannah? If you're considering making the trip, there are several options. There is one train on that route, and some advertisers claim that you can get flight tickets for as little as $29 per person, but most flights are closer to $200. You could also take a bus. The Greyhound Coach travels between the two cities. Of course, renting a car to make the drive from Atlanta to Savannah, or vice versa, might be a better option for two or more people.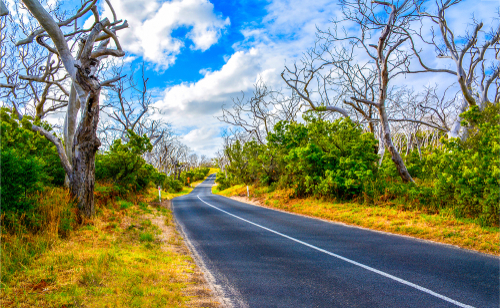 Many Americans opt to make the trip by car, because Georgia is a truly beautiful state with so many contrasts and there are many historic spots and tourist destinations to visit along the way; not to mention the convenience of being able to stay in one place for as long as you wish, as you have a car to take you to your next destination when you're ready to leave.
Expert Tip: Be sure to rent a car with unlimited mileage when you make a road trip.
From Atlanta's urban flair to the grand old mansions and natural beauty in smaller towns, and the Savannah trees draped in moss, there's so much to see and enjoy. Many road trippers love stopping over to visit Tybee Island in Savannah. 
Atlanta to Savannah Drive – Perfect Family Roadtrip
The one-way drive from Atlanta to Savannah is 250 miles, and takes close to 4 hours if you take the I-75 and I-16, depending on Atlanta rush hour traffic, which can easily add an hour to your travel time. Choose your times carefully. 
Driving from Atlanta to Savannah, you would follow this route, which has been described as the best route to travel between these two cities:
Take the I-75 from Atlanta to Macon. From Macon, take I-16 from Macon to Savannah. You will see plenty of pine forest and Georgia farmland.
Alternatively, you could take the I-20 out of Atlanta and pass Covington and Madison before cutting south and getting onto the I-16.
You could easily make the trip in one day, but if you have time on your hands, there are many places worth visiting along the way. No need to rush either, as the largest city near midway mark is Dublin, where you will find great places to stay overnight. The exact halfway point is Whipples Crossing, Georgia, which is exactly 125 miles between the two cities.
Frequent travellers recommend stopping for a decent meal and rest stop in Macon, which is a convenient point to stop in, as exits are few and far between. However, Dublin is only 45 miles east of Macon, with the same types of establishments.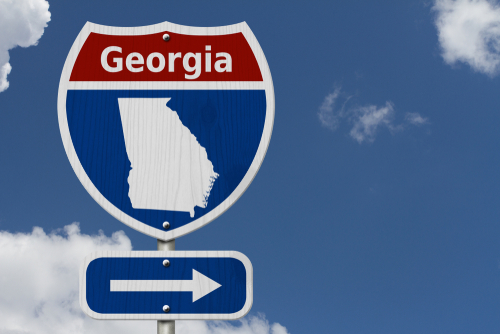 Leaving behind the fast pace of the city of Atlanta with the family, you may want to visit a few stops on the way. Dollar Car Rental created a list of awesome places to stop on your drive from Atlanta to Savannah, including:
Macon – Approximately halfway between the two cities, Macon is an obvious point for a rest stop with a variety of eateries for everyone as well as great historic attractions.
Ocmulgee Heritage Trail
Tubman Museum
Hay house
The Allman Brothers Band Museum
Madison – This beautiful little city is a bit out-of-the-way if you're taking the I-20 from Atlanta, but it's worth the stop, if only to enjoy the city's historic homes, antebellum architecture and antique stores. Be sure to visit:
Madison-Morgan Cultural Center
Milledgeville – Fans of southern literature must make the slight detour when driving from Atlanta to Savannah to visit this town, which features amongst others the works of Flannery O'Connor.
Other worthwhile stops along the way include:
The Whistle Stop Cafe in Juliette
Historic Commercial District in Forsyth
Southern Belle Farm in McDonough
Museum of Aviation at Warner Robins (near Macon)
When you travel back to Atlanta from Savannah, be sure to make time to stop by Tybee Island, a barrier island with wide sandy beaches just off the Savannah coast. South Beach is popular with sun worshipers, while North Beach is home to a historic lighthouse and fort and there's opportunity for you to grab a lovely seafood meal before refueling your car and heading back to Atlanta.
Renting a car for your Atlanta to Savannah drive means that you save on wear and tear on your family car, while taking advantage of the convenience and safety of a rental car. Both cities have airports with rental locations, as well as downtown locations from where you can rent a car. Get a free quote now.