Here at Car Rental Reviews, we keep our finger on the pulse of the industry. We other review car rental complaints about the largest companies in the industries to ensure that we don't provide our valuable customers with bad advice. Today we'd like to cover some of the main issues that creep into the average rent a car contract and leave consumers without any recourse and point out common car rental mistakes that cause trouble.
One of the biggest car rental complaints consumers have is that they end up paying a lot more than they anticipated. The implication is often that the companies were willfully deceptive in their pricing practices. After all, they end up paying for toll charges, extra mileage, insurance, fuel, and a range of other things.
However, when we dig a bit deeper, there's often a good reason, which has a lot to do with the consumer's choices.
Here's what you can do to avoid common car rental mistakes while planning your next summer road trip.
Read the fine print – Every car rental contract has fine print that explains your rights and liabilities when you rent a car. Much of this pertains to insurance.
Don't add insurance (unless you have to) – Let's keep this between us… but if you have car insurance on your personal vehicle, you typically don't need additional car rental insurance – unless you're renting a car in a different country that U.S. banks and insurers don't cover.
Check your credit car benefits – Your credit card might provide additional insurance. Use a card that includes an auto rental collision damage waiver. This only works if you use the same card for insurance as you use to pay for the rental.
Add an additional driver – Hey, it happens. When the road gets too long and you need a bit of a rest, you hand the wheel to someone else. But if that person is not registered as an additional driver on your car rental contract and an accident occurs while they are behind the wheel, you will have to pay out of pocket for damages. It's important to note that you don't have to pay for additional drivers in California, and these states offer an exception whereby spouses can be automatically authorized as additional drivers without having to pay extra:
Wisconsin
Utah
Texas
Oregon
New York
Missouri
Iowa
Illinois
Indiana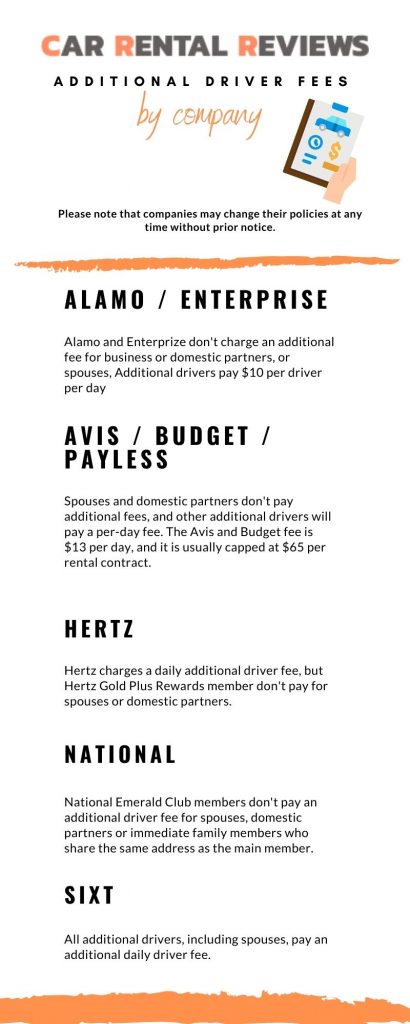 Don't buy a toll package – Most car rental companies offer FasTrak or E-ZPass toll passes that allow you to use the express lanes. At under $5 a day, it seems worthwhile. But what if you don't use a toll road? Then you're spending money you don't have to.
Choose the right mileage plan – While Sixt offers unlimited mileage on all standard vehicles, some companies use mileage caps, especially on weekend rentals. Enterprise and Hertz have unlimited mileage in some states. Always ask about the specifics.
Don't use Bluetooth – While it's fun to synch your phone to the car's Bluetooth, it's important to remember that your personal information is stored in the car and rental companies do not have to delete the data. The next driver may be able to access your GPS information. If you want to connect to Bluetooth, be sure to wipe the data from the car's systems before you return it to the lot.
Join a rewards club – If you're often renting cars, you can take advantage of the various car rental companies' loyalty programs. You can learn about the benefits of these clubs by reading our individual reviews.