Visiting the USA for the first time and renting a car? Or are you a newly minted driver looking for some driving in USA tips before you officially hit the road? In this post, we aim to cover all the basics so that our readers have everything they need by the time they pick up their cars.
Do I need an International Driver's Permit (IPD) to rent a car?
In order to rent a car, you will typically need a full, driver's license that had been valid for a minimum of 12 months. The International Driver's Permit is a special permit that allows you to drive in America. It is only valid if you also have a full driver's license issued in your home state. While it is highly recommended that you take the IDP, it is not mandatory. Some car rental companies may require that you present an IDP when you book a car rental.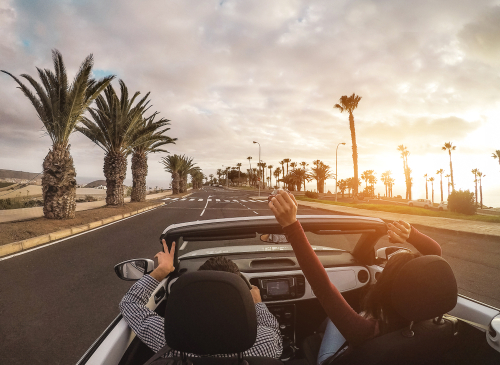 How do Americans drive?
As in every other country in the world, the golden rule of driving in USA is to drive responsibly, treat other road users the way you want them to treat you and to avoid taking unnecessary risks that put you and them in danger.
In America, we drive in the right lane, and only use the left to pass. People from countries that drive on the left side of the road become used to this quickly.
A few interesting facts about driving in USA is that you can turn right if the light is red, unless there is a sign that prohibits this. 
The first car that reaches the junction at a crossroads, goes first. 
Most cars in America are automatic, so if you're renting a car, you can bet your bottom dollar it won't be a stick. But driving an automatic car is actually simple. It's like driving any other car, with the exception that someone else is handling the clutch for you.
All passengers in all vehicles must wear safety belts and children must be in safety- or booster seats. Infants in baby seats may not be forward-facing in the front seat, due to the risks of exploding airbags.
Freeways or interstates sometimes have high-occupancy lanes (HOV), which are marked by white painted diamond shapes on the road. You may only use these lanes between certain hours, and only if you have two or more passengers.
If a vehicle (including emergency vehicles) is stopped on the right-hand shoulder of the road with its hazard lights flashing, you are required to move over. 
Be sure to carry your car insurance and driver's license with you in the event that you are pulled over. When you are stopped by the police, safely pull over to the side of the road and turn the car off. Remain in the vehicle, but roll down your window.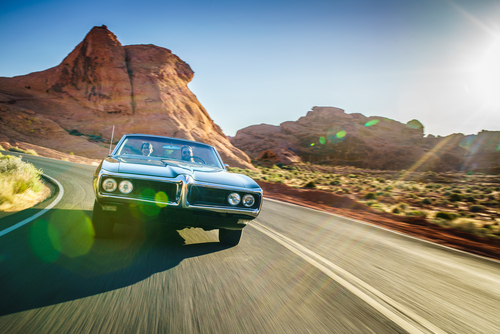 There you have the most important driving in USA tips. Now all you still need to do is find an unlimited miles car rental deal.