Motor vehicle manufacturers are working hard at providing new technologies to safeguard the future of our planet by creating fuel-efficient, eco-friendly and easy-to-drive automobiles. While many consumers are starting to embrace the environment by investing in EV technology, people wonder whether it's possible to rent an EV. The good news is that, yes, you can! In this post, we look at electric car rental.
People have been renting hybrids for the last few years already, and many have gone on to buy their own EVs. The one thing that holds people back from doing so, is still range anxiety. What if I run out of battery halfway to my destination because I can't find anywhere to plug my car in. 
Bloomberg reported that individuals who have tried out electric cars (notably Nissan Leaf) swapped them for conventional cars after just 1.6 days, compared to the typical week-long average rental. Hertz has experienced a lower-than-expected demand as well, despite some early success. Despite that, major rental companies are still committed to increasing the range of electric cars on offer, but targeted to the demand.
Enterprise and Hertz both cater to the higher end of the rental market by providing the exotic Tesla Model S at around $300-$500 per day. This vehicle offers a long range, which sets customers' minds at ease. However, as technology improves, even more affordable electric car rentals now offer a longer range.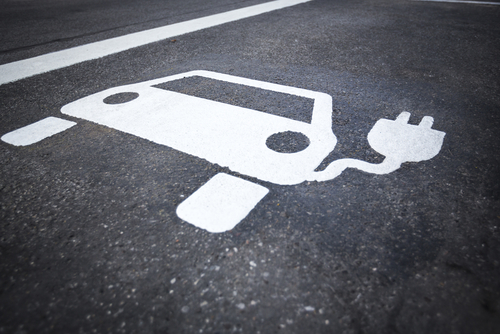 Why Choose an EV?
Some of the reasons to rent a hybrid or electric car rental include:
Simplicity – Hybrids and electric car rentals are small and therefore easy to park just about anywhere. They're easy to handle too.
Eco-friendly – Hybrids use less gasoline and therefore have a lighter impact on the environment. Electric cars don't use any gasoline.
Which car rental company has electric cars?
Hybrids have been designed to reduce fuel consumption by using both an electric motor and a gasoline motor. These vehicles make for particularly popular rentals, as they save on gas, and they are compact, despite the fact that they can carry up to five passengers and three bags.
Sixt offers some of the most recent electric car rentals, including the BMW I3, Smart 42 or BMW I8.
Avis offers the Nissan Leaf, Toyota Prius Hybrid, Hyundai Sonata Hybrid and Lexus GS 410H F Sport.
Hertz's hybrid and electric car rental options include the Ford Fusion Hybrid.
Will you be choosing car rental companies based on whether they offer electric car rental near me? We'd love to hear about it in comments below.