So, your kid needs to get from Point A to Point B, but how old must you be to rent a car? There are two important factors to driving a rental car: your age, and how long you have had your driver's license. At the age of 18, you're considered an adult. You have to pay taxes, vote and go to war. But unless you're over the age of 25, most rental car companies won't let you drive their vehicles. Some might let you drive their vehicles if you're older than 21, provided you pay a hefty surcharge. 
State Laws and Minimum Car Rental Ages
While the minimum age to rent a car is 21 across most states, some allow 18-year old drivers to rent a car. However, companies set their own restrictions at the end of the day. This is for two valid reasons: 1) it's their cars, and 2) their insurers place restrictions on them.
Drivers under the age of 25 are considered high risk for reckless driving. They are considered less experienced, statistically. Research has shown that drivers younger than 25 are more likely to get into accidents, and companies have no better way to protect their businesses than by implementing bans on underage drivers, charging hefty underage daily rental fees, and by restricting the which cars they are allowed to rent.
States that allow rental car agencies to rent cars to drivers over 18 include Michigan, New York and Arizona. Even so, you will still be charged an additional daily fee. You will likely pay a daily surcharge of $25 – $50 per day.
But it's not all bleak for you if you're younger than 25. Most locations of popular rental cars operators, including Sixt, National, Europcar, Enterprise, Avis, Budget and Advantage do allow drivers between the ages of 21 – 24 to rent cars. If you're over 20, you can rent from Thrifty, Dollar or Hertz. However, you can probably forget about renting an SUV, sports car, van, or a luxury vehicle.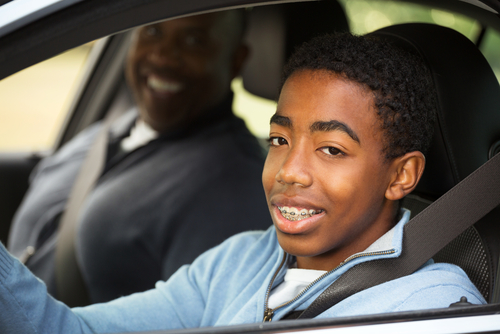 How old must you be to rent a car if you are employed by the government?
If you're a military member or U.S. Government official traveling on official business and you're under 21, you will be able to rent a car. In some cases, they may even offer it to you at military or government rates. If you're working as an intern and you need to rent a car, speak to the company to see if they have a corporate car rental account with an agency. They tend to have special contracts, thus allowing companies to rent the cars to their employees; however, the 16-year-olds will not be allowed to drive the vehicle, as that will breach the rental car contract, and if anything goes wrong, insurance will be voided.
Parents who rent a car may not allow their non-approved driver to use the vehicle. The parents are responsible for the vehicle. Even if the child takes the car without permission from their parents or from someone who rented the car and the car is not reported stolen, the family will be liable for damages. 
Learn more by clicking on search or find answers on our FAQ pages.
Bottom line
You can learn more about car rental insurance in our archives.
Only approved drivers are permitted to drive a rental car. By allowing a non-approved driver to drive the car – whether they are licensed or not! – the renter is exposed to maximum financial liability. Drivers must be authorized by the rental company if they wish to drive a rental car.