When you're looking to add something truly unique to a special occasion, a vintage car rental is the way to go. Whether it's for prom, a special birthday celebration or a honeymoon road trip, a 1982 VW Vanagon Westfalia, 1970 Cadillac DeVille or a 1965 Mustang convertible is the way to go. Now you can look romantic while at the same time making your room of sliding behind the wheel of your dream vintage car a reality. It's a win-win!
Vintage car rental companies offer selections that cater to all your wildest dreams. Whether you want to impress your date with a classic muscle car such as a GTO, Pontiac Firebird, or a Ford Mustang, or take the family on a classic road trip in a vintage camper wagon, you'll easily find what you're looking for. Additionally, several companies specialize in vintage foreign cars such as Volkswagen, Porsche and Mercedes, while others offer a range of classic American vintage car rentals, including Pontiac, Lincoln, Ford, Chevrolet and Cadillac.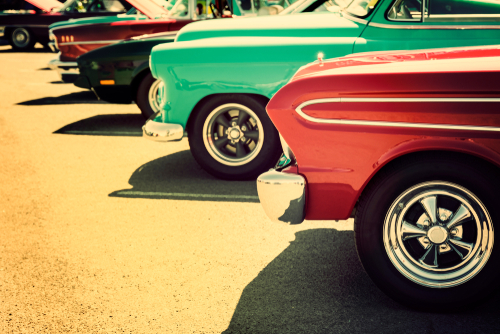 What to Expect from Vintage Car Rental
When you're looking for a vintage car rental, it's a good idea to consider exactly what you need before you start looking around for a company that offers vintage car rentals. Some companies have large selections of old school classic cars that are available for self-drive rentals. Most companies respect their classic cars, and keep them well-maintained and safe.
Other companies offer chauffeur driven classic car rentals. With this service, you will have a driver collect you from home or wherever, and take you to your destination. The benefit of hiring a car and driver is that you don't have to focus on driving in busy traffic and you don't need to find a parking spot. Your driver will take care of all of that.
However, there are times when you want to be behind the wheel of your vintage car rental. This is especially true of those who dream of taking scenic road trips on Highway 1 with your date, or a classic Route 66 road trip with your mates. Is there any better way to do that than in a Mustang? We think not!
As with standard car rentals, vintage car rentals are insured. These cars can be more valuable than an economy or budget car, so if you're unsure, please contact us to discuss your options.