You can't beat the feeling of freedom when you're on the open road, so it's no wonder that taking a (long) drive—or a romantic road trip—with your love can be a wonderful way to bond. Read on to discover some romantic and breathtakingly beautiful romantic road trip ideas for couples. Close quarters, stunning views, uninterrupted alone time—there's nothing like a road trip with your sweetheart to rev up the romance.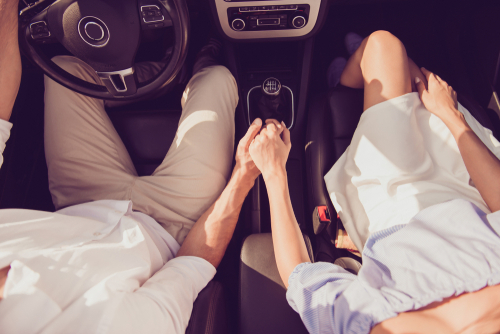 Couples who travel to new destinations and share experiences together become closer. We, however, believe that no two romantic getaways ought to be the same, since no two love affairs are equal. Do remember, however, that not every road trip will ignite romance, perhaps, but here are a few that will.
We combed the country for some of the most romantic spots for romantic vacations or weekend getaways in your area. Are you planning your first holiday together? Consider turning your Thanksgiving into a romantic road trip.
When you go on a romantic road trip by car, you can go at your own pace, whether you're in your own country or abroad. But before you hit the open road, remember:
Make sure your rental car has a GPS system.
If you rent a car, opt for a vehicle with automatic transmission. Getting an automatic might cost a little more, but it is easier when you're unfamiliar with the roads.
Prior to your arrival, research parking options in your destination.
Plan your romantic road trip carefully to avoid running into challenges. Our road trip gas calculator will help you create an estimated travel budget.
Get inspired by these romantic road trip ideas, near and far, recommended by Car Rental Reviews. You can easily update your playlist regardless of whether you have the weekend to spare or weeks to explore. Taking your beau on the next adventure will be an adventure you won't soon forget.
Why You Should Rent a Car for Your Romantic Road Trip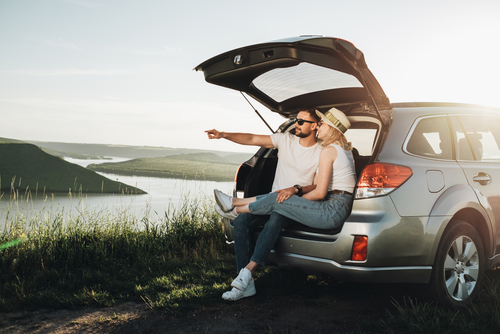 Consider renting a car for your romantic road trip. Why not choose an SUV with removable seats for the perfect car camping trip? With a rental car, you won't need to worry about your Old Faithful breaking down on the way to your destination. You will have access to roadside assistance whenever you need it. Holiday periods are often a good time to find great deals on car rentals.
Top places to visit during your romantic road trip
There are some places that just make us fall in love. A colorful sunset overlooking the ocean while dining on the veranda of a quaint boutique hotel, with beautiful instrumentals played by a live quartet— all these elements can result in feeling enamored.
However, so can taking a walk in nature and visiting one of our country's most romantic cities. Whether you're looking to rekindle your romance with a long-term lover or spark one with a new honey, these American cities are sure to spark your passion.
A landscape of breathtaking coasts and bustling cities offers something for everyone.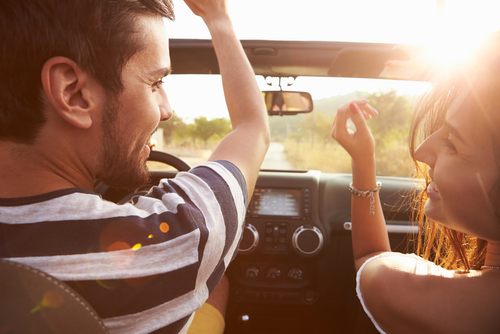 A romantic wilderness retreat will often allow couples an opportunity to explore waterfalls, cliffs, and beaches. Urban visitors can enjoy waterfront streets and city views from the roof. Additionally, a few castles offer couples the chance to live out their fairytale romances.
Alabama's most romantic road trip destinations
The highest point in Alabama is located in Cheaha State Park. It's a secluded, comfortable park with many secret treasures to discover. Outdoor activities in the area include fishing, gemstone mining, rock climbing, hiking, swimming, and geocaching.
In Gulf State Park, you'll find beaches with white sand, golf courses, a driving range, hiking trails, and three lakes. Nature is surrounded by amenities such as restaurants and wireless internet, but remains unspoiled.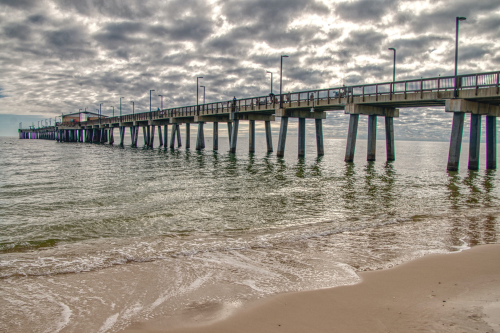 The campgrounds have running water, ablutions, electricity, picnic tables, and grills where you can pitch a tent or an RV. Camping is another way to experience the great outdoors. Having an evening around a campfire with your partner and watching the sunsets together is the perfect way to enjoy a weekend with your love.
If you intend to stay for a longer period of time, consider a cottage or cabin that comes with a fully equipped kitchen, cable television, and a fishing pier.
Alaska's Mendenhall Ice Caves
Alaska is an excellent resort destination for couples looking for a unique and romantic getaway. The state of Alaska is located in the northernmost part of the country, covering nearly half of its area. Geographically, Alaska has a great deal to offer, including islands, volcanoes, and volcanic mountains.
Alaska is known as a cold and snowy state but still enjoys summer, despite its interior's subarctic climate. A typical summer day in Alaska can reach 70 degrees. From beginning to end, Alaska is an adventure despite its chilly weather. Visiting the major cities and small towns is a wonderful idea for couples looking for adventure.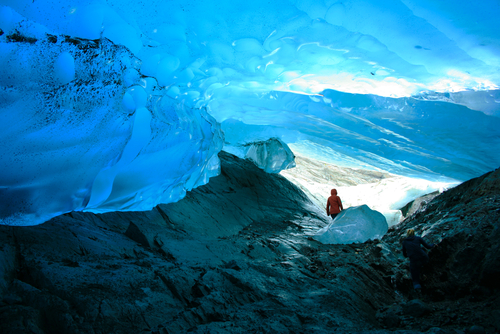 Couples looking for a romantic adventure in Alaska will delight in the Mendenhall Ice Caves. It has been said that the caves glow in an otherworldly blue. Because of global warming, however, the caves are melting rapidly, so you may not have the opportunity to visit them for long.
Emerald Cove in Arizona
Is Phoenix Arizona on your romantic getaway list? There is plenty to do in this sun-kissed desert city for couples.
It doesn't matter what you are in the mood for – gorgeous views, an evening out, or an adventure – Phoenix has it all.
Explore Emerald Cove in Black Canyon by kayak. Within this hidden cave, the water glows a bright green. A kayaking trip in tandem is a great way for couples to capture memories. Swimming in hot springs, relaxing in saunas, and seeing narrow canyons are some of the things you can see while paddling down the Colorado River. A trip to the Grand Canyon, an iconic landmark in the USA, is an essential part of a vacation to Phoenix.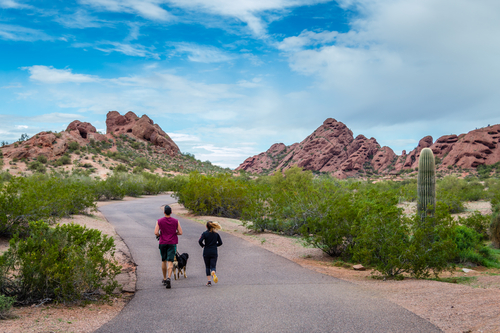 A scenic drive on the Apache Trail is among the best in Phoenix. The Apache Trail connects Apache Junction to Theodore Roosevelt Lake. In honor of the Apache Indians who first settled in the Superstition Mountains, the route is officially called "State Route 88".
About two hours south of Phoenix lies the Sonoran Desert, which covers over 100,000 square miles. Despite its isolation, you can enjoy the beauty of the desert's plant life and wildlife without having to venture far. Outdoor couples seeking an intimate date in nature tend to flock to this popular destination near Phoenix.
Eureka Springs, Arkansas
Arkansas surprises you with its diversity. Arkansas is one of the least explored states, yet it holds many hidden gems, including rushing rivers, the Ozarks, and the Ouachita Mountains, beautiful public parks, forested areas, vibrant communities, and a vibrant culture. Although Arkansas has all of these things, it is most renowned for its natural beauty. Almost everywhere you look, nature beckons!
The Eureka Springs Historic Center still has some remnants today. Browse local art galleries and boutique stores as you stroll through the stone streets.
And don't miss the Crescent Hotel! Spend some time strolling around the grounds and enjoying a couple's massage at their New Moon Spa. Make the evening a romantic one at Ermilio's with a cozy Italian dinner.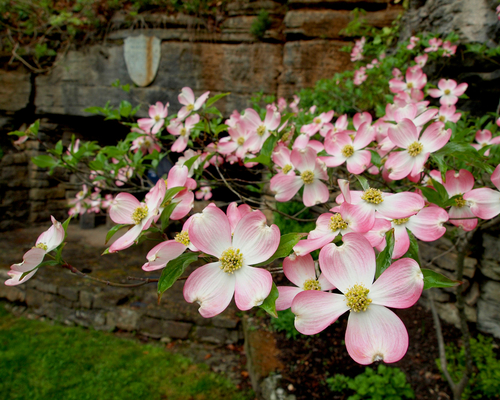 Plan an evening at the Grotto Wood Fire Grill if you want something truly memorable. Dine inside a beautiful cave as you indulge your senses with mouthwatering meals.
The Thorncrown Chapel looks like an open-air chapel amidst a forest, but it is actually crafted of organic materials and is air-conditioned. It is widely viewed as a significant influence in the field of architecture. Each time the weather changes or rays of light fall on the building, the appearance of the building changes.
The city of Charleston, SC
South Carolina's Charleston is an elegant city bursting with charm. This city has also been recognized as the most romantic in America by Travel and Leisure.
Experience a romantic day on the water in historic downtown Charleston, SC, and escape the sweltering summer heat. Discover the sights around the harbor, watch dolphins play, or enjoy a romantic sunset from a classic tall ship. You can also take the cruise at night for a cool moonlight sailing tour of the serene Charleston harbor.
Palmetto Carriage Works can take you on a romantic carriage ride to discover the city in style. In their lively narratives, the guides weave wit and extensive knowledge of Charleston's 300-year history. Spring and early summer are the ideal times to take one of Charleston's finest carriage rides. Flowers are blooming, and jasmine fills the air. Consider taking a tour to see historic sites like Rainbow Row. Alternatively, you can snuggle up and enjoy a nighttime ride at the Big Red Barn on Guignard Street, near the Charleston City Market.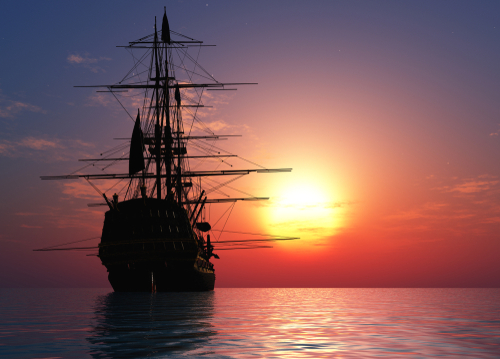 Adding a little Southern charm to your couple's romantic road trip can make it even more idyllic. Charleston offers a romantic atmosphere with cobblestone streets, horse-drawn carriages, and historic architecture.
Additionally, the town offers a wide array of charming B&Bs and boutique hotels, some of which have fireplaces and antiques. Enjoy a fun night of live jazz at Charleston Grill before eating at Circa 1886 in the former carriage house on the grounds of Wentworth Mansion. Remember that a romantic evening wouldn't be complete without a stroll through the French Quarter.
Providence, Rhode Island
Providence is a charming, small town with a series of canals and waterways that give it a unique, whimsical feel. WaterPark Place features cobblestone pathways before eating at New Rivers, a restaurant housed in the former Congdon and Carpenter Mill. WaterFire, an outdoor art installation, illuminates the downtown in the summer, a perfect place to walk after dinner or ride a gondola along the Providence River.
Newport Cliffwalk offers an enjoyable stroll along New England's coast. Although the walk is about 3.5 miles long, you do not have to walk the full length to appreciate the ocean views. Bring some small snacks and a bottle of water if you enjoy stopping for a snack or just to enjoy the view. For those who don't wish to carry all of that around, there are several nearby restaurants.
One way to stir romance is to relax and enjoy a glass or two of wine at one of the many pubs, restaurants, and wineries.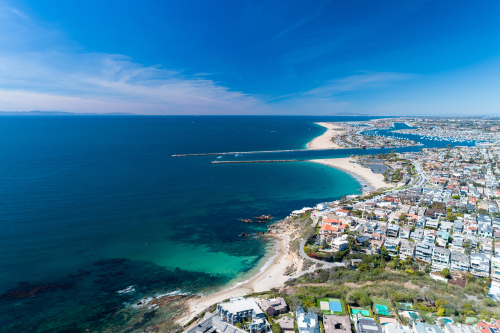 If you're interested in romantic activities or fun things to do, Rhode Island has plenty of opportunities to do so. The best place to gather them into a weekend trip is Newport. Several of the ideas on the list are all grouped together in one area and there are plenty of good places to eat. Additionally, there are countless other sights to see in Newport that couldn't fit in this space. Explore the area and maybe you'll both discover something we didn't!
Fredericksburg, Texas
The quaint German enclave of Fredericksburg, Texas, is one of the most romantic places in the United States. For a secluded getaway, where you can sip wine and gaze at the stars, you might consider one of the many romantic cabins in Fredericksburg, including many with hot tubs, ideal for couples looking to relax.
A popular hiking and photography destination about 20 miles outside of this small town, Enchanted Rock State Park is a popular road trip and hiking area in the Texas Hill Country.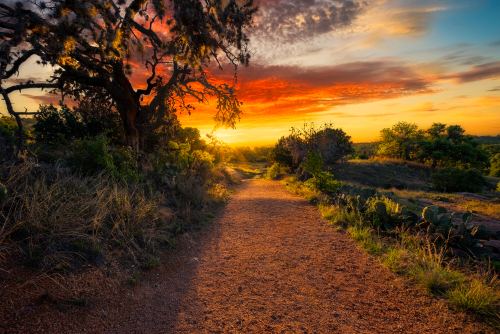 Enchanted Rock state natural area is known for its massive pink granite boulder. The pink granite dome at Enchanted Rock lures tourists from all over the world. Enchanted Rock is a popular destination for hiking, camping, rock climbing, picnicking, and evening stargazing.
Griffith Observatory in California
Honestly! A great place to take a date during the day or at night! It is located high above Mulholland Drive on the Hollywood Hills. After viewing the stars…you can enjoy the outside view of the observatory with your sweetheart.
A romantic evening at Griffith Observatory can bring you back to the glory days of Hollywood. Having been featured in that iconic scene from "Rebel Without a Cause," the Los Angeles observatory has become a symbol of Southern California's love. Those who prefer the outdoors to movies might enjoy hiking up to the observatory to see spectacular views of Los Angeles.
There is a sense of privacy at Point Dume thanks to the high bluffs that lead right down to the ocean. Take a picnic and perch your blanket way above the water. Keep an eye on the water – if only you can *wink* – since Point Dume State Beach is the beach where the most dolphins have been observed. From January through March you might also spot whales migrating.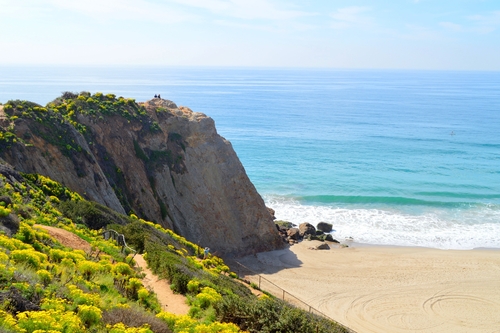 At low tide, you can explore the numerous tide pools and enjoy the four mile round trip hiking trail. When you reach the peak of that easy-moderate hike, you are rewarded with sight of the Channel Islands over in the distance. Finally, end your romantic idyll at the restaurant at Paradise Cove, adjacent to Barbra Streisand's beachfront home.
Bishop Castle, Colorado: Amazing Destination for a Romantic Road Trip
In the beautiful Rocky Mountains of southern Colorado stands one of the most genuine and incredible wonders of our time. In its full glory, the BISHOP CASTLE is living testament to what one person can achieve in this world with their dreams and willpower armed with the determination to make them real.
When you're in love, it's as if nothing is impossible – even building the country's largest castle with only the love of God and support of his family. For the past 60 years, Jim Bishop has built his now-16-story-high fortress. It all started when he and his wife were looking for a place to live. Now it's one of the world's most unique tourist attractions.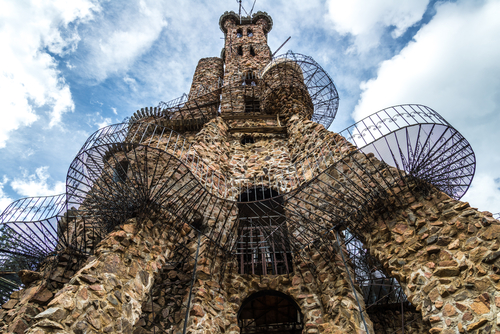 What can you expect to find in Grand Junction? The breathtaking natural beauty of Colorado National Monument and its distinctive red rock landscape. Grand Mesa offers outdoor adventures including hiking, camping, and skiing. The Kokopelli Trail is an example of a world-class mountain biking trail. The Colorado River has incredible whitewater rafting. With craggy foothills and green fairways juxtaposed against a craggy desert, there are stunning golf courses here.
Saybrook Breakwater Light, Connecticut
Lighthouse tours in Old Saybrook can brighten up your romantic getaway. You can take a hike out onto the breakwater to get up close and personal with Saybrook Breakwater Light. If you prefer your lighthouses older (75 years older in fact), then visit the charming Lynde Point Lighthouse, which is more easily accessible by land and just as charming as it is old. Afterward, you can go to the little lighthouse at Saybrook Point and stay there for the night (or two).
Katharine Hepburn is one of the most beautiful and romantic figures in history. Let the Kate take you back to another age with an evening of elegance and romance. Experience the old Hollywood glamour of Katharine Hepburn's life story while strolling arm in arm through the museum. If you want to dance cheek to cheek, head over to Kate's main stage, which features live music and a lively atmosphere.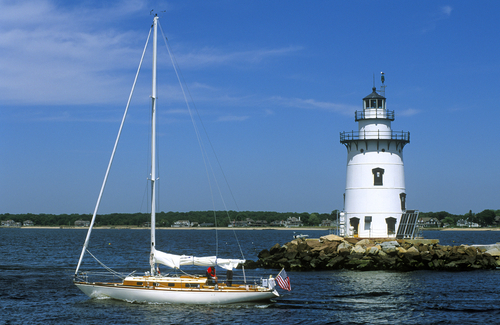 Enjoy a romantic getaway on the water to rekindle your relationship. Imagine waking up to a gorgeous sunrise over the water or sharing a glass of wine while watching the sunset from your balcony.
New Orleans, Louisiana
New Orleans, Louisiana, is a great place for couples looking for romance. Music is the muse, inviting couples to sway on the dance floor or snuggle up in a nightclub booth for a kiss. Rusted wrought-iron balconies are surrounded by flower vines, making the architecture romantic and stunning. As for the cuisine, it is equally pleasing to the palate, with dishes like shrimp and grits or crawfish étouffée. While exploring this vibrant city, it's difficult not to smile at the friendly people you meet.
The city of New Orleans is one of the most popular getaway destinations in the United States. The city has such a unique history, great food, and a vibe like nowhere else. While there, check out Bourbon Street because there are countless bars, restaurants, and live music venues. Because of New Orleans' open drinking culture, you can drink openly on the streets – inside and out.
At night, Frenchman Street is where the locals hang out for live music and funky bars.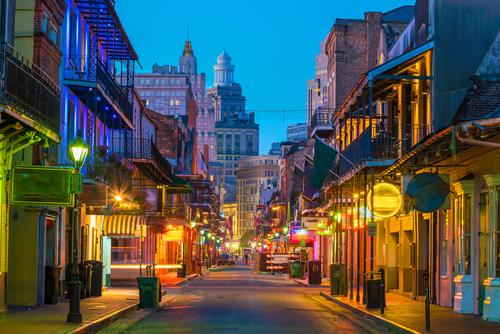 Additionally, there is a night market here where you can find local art, jewelry, and more. It is impossible to compare what's better than beignets at Café du Monde and Cafe Beignet without trying them!
The sight of a city skyline from the water is so romantic. During your romantic getaway, enjoy a steamboat ride on the Mississippi River. It's possible to book lunch or dinner sailings, but the emphasis is on the views and the live jazz, not the food.
The oyster is one of the city's most popular specialties and considered an aphrodisiac. Having worked at Felix's Restaurant and Oyster Bar since 1999, Michael Jackson—his real name—shucks oysters and makes friends with diners. He is the picture of a N'awlins oyster shucker, who speaks with a gravelly voice and laughs easily.
Rehoboth Beach in Delaware
Spend a stargazing night at Mt. Cuba while you contemplate the mysteries of love and the universe. It is impossible to not be awestruck by the sky when guided by a professional astronomer. The observatory has public night events during the cold months. Enjoy the view from the lawn during warm weather.
Come Valentine's Day, many of the businesses along Rehoboth's iconic boardwalk will be closed, but there is something terribly romantic about a deserted ocean town.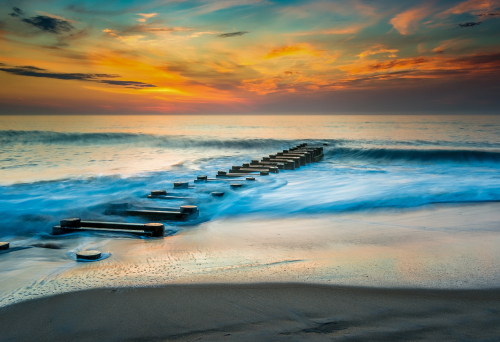 Let's face it, you only need one other person to create a memorable day at the seashore. Enjoy the seashore without worrying about avoiding crowds. Over the past few years, the beach has also become a popular LGBTQ destination.
Flowers would not grow without birds and bees, which is why Longwood Gardens is the perfect place for love to grow. Every nook and cranny of the gardens and conservatory is romantic to the core. You can also have a relaxing cup of coffee in the café or a delicious dinner in 1906. National and international artists perform in both indoor and outdoor venues, from reggae to jazz to classical. Also, do not miss seeing one of those awesome fountain shows.
St. Augustine, Florida
St. Augustine is full of romantic things to do. With its history and old-world ambiance, it's already a romantic destination. There are several historical sights that make this town stand out from other destinations across the country. The brick-lined streets, centuries-old buildings, and hidden courtyards create a romantic and mysterious atmosphere. There are world-class art galleries, restaurants, boutiques, and architecture that add to the European element of the city.
The ancient streets. Beautiful architecture. Stunning beaches. The romantic city of Saint Augustine, Florida, is easily one of the best getaways in the whole country. Saint Augustine is America's oldest city and is packed with historical sites and quirky attractions for you and your special someone to explore.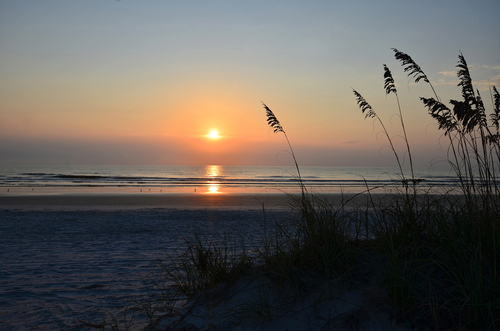 You can spend some quality time together in Saint Augustine, from dining at locally-owned restaurants to strolling through the city's beautiful streets holding hands.
As one of the most romantic things to do in St. Augustine, watching a sunrise or sunset with your partner ranks highly on the list. This Bayfront walk provides stunning views of Matanzas Bay.
While you're here, take some time to explore historical structures such as the Castillo San Marco. You can also go to a nearby state park or the beach. Don't leave the city without going on a ghost tour! The oldest town in the US has no shortage of haunted spots.
Saint Augustine is one of the most romantic getaways in the United States, whatever your interests may be.
Take a Romantic Road Trip to Savannah, Georgia
Romantic strolls along Savannah's River Street are ideal for couples seeking a little escape from the city. It is constructed from cobblestones that are over 200 years old. In addition to several cute restaurants, bars, galleries, and shops, the street offers spectacular views of docking cargo ships.
Georgia's oldest city has been recognized by Conde Nast Traveler as one of the world's friendliest cities time after time. Couples flock here for a romantic Savannah getaway because of its relaxed atmosphere, diverse dining options, and cozy lodging options for couples.
This romantic road trip getaway destination in the United States features Spanish moss, beautiful squares, and charming architecture. Enjoy a romantic stroll past the beautiful mansions and historic squares in Savannah's Historic District, and take your time to stop at Forsyth Park for a picnic lunch before heading back home.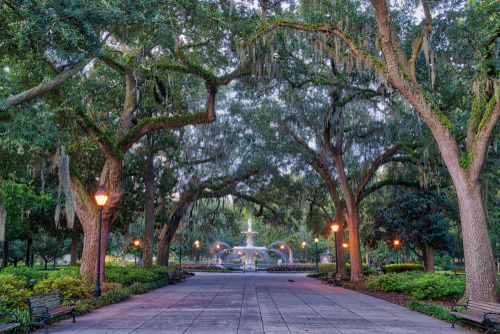 You'll find several wineries (and a distillery!) for a laid-back, fun afternoon in Savannah if spirits are your drink of choice…
In a city like Savannah with such a rich history, it should come as no surprise that ghost tours are so prevalent. Indeed, it is one of the spookiest destinations in America!
With a private carriage ride at dusk, you'll feel like you're in a movie with your sweetheart. You can travel along cobblestone streets and see the city's oldest mansions as the Madison Tour Company picks you up from a romantic dinner.
Tybee Island is the perfect place to watch the sunset when in the city. It is a coastal barrier island that is just minutes from downtown, one of the most peaceful corners of town.