The answer seems obvious to those who frequently make use of car rental services, but it's less so when you're gearing up for your first car rental in USA for foreigners. That's right. If you're traveling to America for business or leisure, or in the middle of an international relocation and you're wondering "What do you need to rent a car in USA?", you've come to the right place.
Most people who own their own cars usually don't have a need to rent a car. But if your car is being shipped internationally via Ro-Ro auto shipping, it will probably take a while. Meanwhile, you need a car to get around. There's nothing more frustrating than being in a foreign country without a car.
Trying to do multiple trips for a variety of moving-related matters in a taxi can be expensive, and inconvenient, in some cities. Many big city dwellers don't own cars due to the lack of parking and their close proximity to the amenities. But it's different if you're living in the suburbs. Of course you may still be able to get away without owning a car, but having access to your own (or rented!) wheels will certainly make it easier to explore your new city and its surroundings on the weekends.
The good news is that the USA is home to thousands of car rental locations from world-renowned car rental brands, such as:
Hertz
Dollar Rent A Car
Enterprise Rent a Car
Avis Car Rental
Budget Car Rental
You will find them at most airports, as well as in the city center. But you can often save time and money by booking your car rental online. That said, you probably have many questions about car rental. We're here to answer them for you.
Frequently Asked Questions; What do you have to do to rent a car?
Q: Can tourists rent a car in USA?
A: Of course! That's why so many car rental locations operate at the airports. Although these locations are easily accessible when you fly into your destination, we recommend that you book online ahead of time and take advantage of the no queue options. You'll be tired after a long flight and don't want to go through all the hassles of waiting in line.
Likewise, booking ahead ensures that the car you want is available when your flight arrives. Imagine waiting in line and they've run out of cars in your preferred car rental vehicle class (and budget!). Because that happens at the busy airports…
Q: What do you need to rent a car in USA?
A: Most rules regarding car rental are the same around the world, perhaps with small incorporations of local law. This usually pertains to licenses, identity, and fees. You will need:
A valid driver's license
Proof of identity and age
Credit card
Proof of insurance
Q: What are the qualifications to rent a car?
A: Each car rental company has their own qualification criteria that pertains to allowing a client to rent a car. It all boils down to:
Your identity
Your driving record
And whether you can afford to pay for the rental car.
Furthermore, motor vehicle departments in different states have their own requirements. Here's an easy infographic to help you understand what you need to rent a car in the US.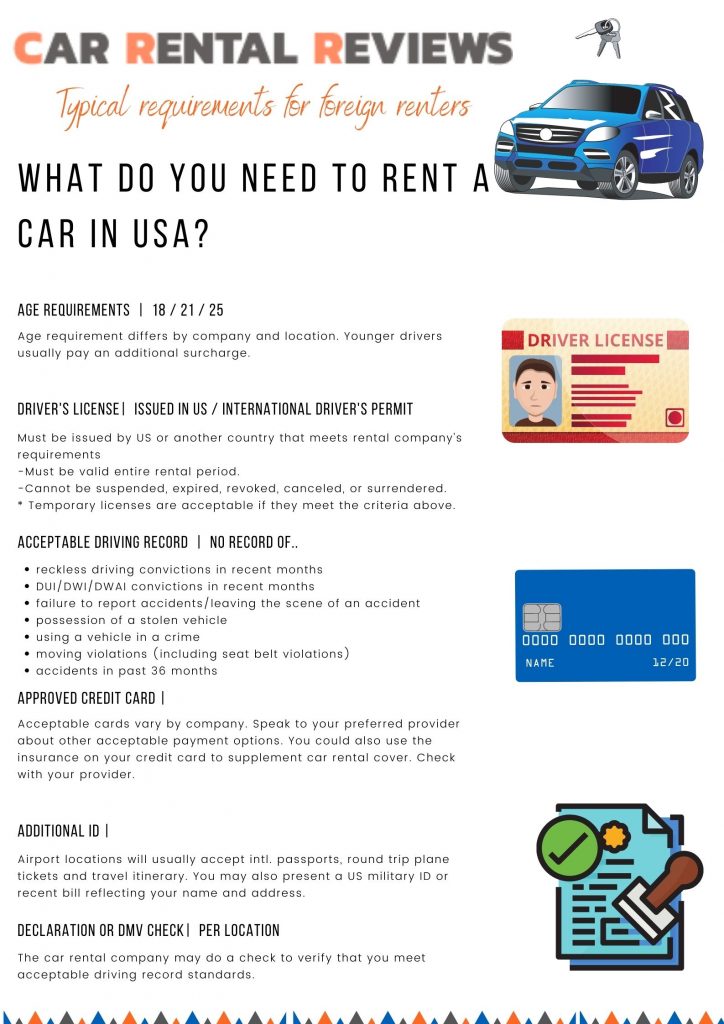 Q: Can you rent a car in the US with a UK license?
A: The United States government allows foreigners to drive in the U.S., provided they have a valid driver's license and meet the requirements of the Federal Government, the state DMV requirements, and the car rental company's verification process.
Please view our website for the latest car rental reviews, driving tips, and ways to save money on your next travel experience.