Your phone's battery life, Justin Bieber, Gangnam Style and traffic, are some of the most disliked things in today's fast paced digital world. We can push a button to change the Bieb or Psy, and we can find a power bank for that battery, but if you commute to work, traffic is simply a (really crappy and time-consuming) part of our lives that we have to contend with. Have you wondered about the top 10 traffic cities in the world?
With personal safety becoming more important because of the influence of Covid-19, there has been a marked decrease in mass transportation and a rise in car rentals. As the pandemic slowly releases its captive hold on the human race, more and more people are using cars again—and this means more traffic. In this post, Car Rental Reviews blows the horn on a few of the worst cities for traffic in the United States, so fasten your seatbelt and take a chill pill, because here we go… Or don't go if you happen to be driving in a place that's considered the worst traffic city in the world.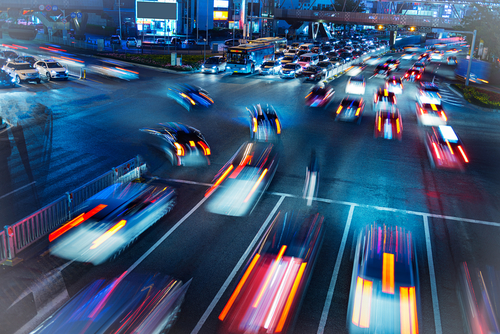 The State of Traffic in the United States
2020 was most certainly the start for a big change in personal transportation that has continued this year. The average downtown commute time decreased by up to 44% as a result of the pandemic and the number of miles driven in the United States fell by 82 percent over 2019 levels. This is mainly due to more employees that work from home, remote learning becoming more commonplace, and many restaurants and other downtown, social establishments, shut. According to INRIX, commuters lost only a bit more than a day (26 hours) in traffic during 2020, which is down from 99 hours in 2019.
Despite a 30% drop in collisions last year, traffic fatalities rose by eight percent. It has been largely attributed to motorists exceeding posted speed limits on freeways to take advantage of the reduced traffic congestion.
Covid-19 has radically changed how, when, and where people move. It seemed like overnight, travel behavior shifted due to government restrictions and the disease. The morning commute to work, schools, malls and other public places flowed freely and without delay in cities around the world.
New York leads all other major U.S. metro areas in traffic congestion, with commuters spending an average of 100 hours a year stuck in traffic. While that sounds bad, it's actually 28 percent less than in 2019.
Learn how to share the road with motorcyclists here.
During 2020, NYC lagged behind both Bogota, Columbia (133 lost hours in traffic per commuter) and Bucharest, Romania at 134 lost hours per commuter. INRIX's global traffic tally ranked Philadelphia fifth and Chicago seventh, respectively, when it came to congestion in U.S. metro areas.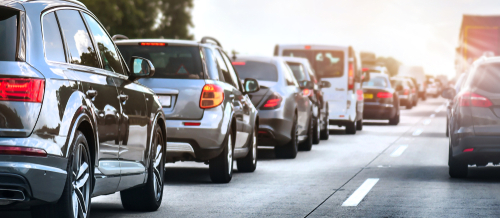 Travel from suburbs to downtown in the largest metros decreased by 42% last year.
Portland suffered the greatest decrease at 66%
San Francisco down by 64%
Washington D.C down by 60%
Detroit down by 59%
Boston down by 56%
As a result of the spread of the virus and the subsequent government restrictions, travel to downtown areas has been severely affected, but the reduction in congestion has resulted in faster commutes for essential workers, more reliable deliveries, and an easier transportation of freight, all of which are crucial for the economy.
If all of this up- and downing is making you feel a bit queasy, read our article on remedies for motion sickness, and click here if you are thinking about getting a rental this winter.
Four Traffic Patterns in 2020
The year 2020 was remarkable in many respects, including its impact on vehicle traffic nationwide.
The 2021 Urban Mobility Report says commuter traffic fell by almost half from the year prior and those snarls that were present, were spread out over more hours, one reason was rush hour travelers taking on the role of midday shoppers and child transporters. The weekend also saw a greater share of each week's travel delay in 2020, another effect of the reduced weekday rush-hour commute.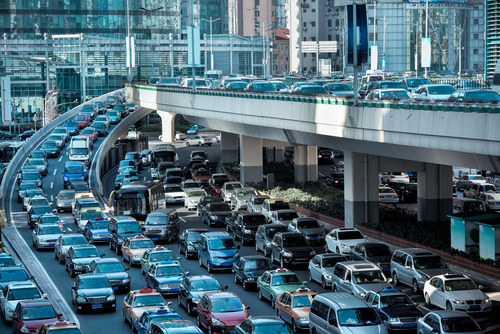 In 2020, four distinct phases of traffic were observed:
Traffic was similar to 2019 in January and February of 2020.
A nationwide lockdown from March to May resulted in an unprecedented level of empty roadways.
Rush hours began to appear again from June to August.
In September 2020, delays began to return to normal.
With winter fast sticking its ice fingers down the county's spine and Thanksgiving just around the bend, here are some hints on our blog regarding, COVID-19 & Self-drive Vacations this Thanksgiving. Read on to learn a few helpful driving tips for this fall.
What to Pack in Your Fall Emergency Roadside Kit
If you're planning an extended road trip, it's wise to pack an emergency roadside kit. Keep in mind that you can save some miles on your odometer, and maybe drive something a bit fancy, if you use a rental for your road trip instead of your own car. Car Rental Reviews can put you in touch with the right rental partner for you.
Here are a few essentials for your emergency kit:
Charger and cell phone
An emergency first aid kit
An LED flashlight
A white flag and flares
Jumper cables
Pressure gauge for tires
Tire changing jack (and mat)
Change of clothes and work gloves
You will need some basic repair tools and duct tape (to fix a hose leak temporarily)
Water and paper
Nonperishable food – read our blog on Healthy Road Trip Meals and Snacks: What Are Your Choices?
Windshield washer fluid
Maps
Emergency blanket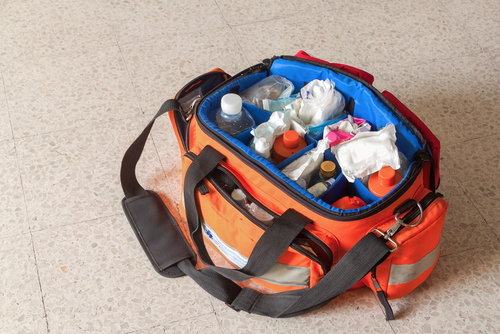 Check out These U.S. Traffic Choke Points
Consider a wide detour around Boston, New York, and Houston if you're going on a road trip. Traffic congestion is the worst in those areas right now.
While the Los Angeles area, which has been the first-ranked area for highway congestion year after year since 1982—and is considered one of the top 100 worst traffic cities in the world—has recently dropped to the fourth spot on the "terrible traffic" list.
Despite holding the title for nearly 30 years, Angelenos cannot claim to have the worst traffic in the country anymore. New York-Newark has managed to overtake this Californian city. This is directly related to the pandemic and the large percentage of LA residents choosing to work from home. It's pretty astounding to see how much variance exists between the years:
2019 – Hours spent in traffic for LA drivers: 952,183
2020 – Hours spent in traffic for LA drivers: 365,543
The ranking is based on the number of hours a driver is delayed. Compared to the New York-Newark area, which spent 494,268 hours stuck in traffic last year, the Los Angeles—Long Beach—Anaheim region saw 365,543 stuck in traffic hours.
The pandemic, coupled with lockdown orders, encouraged a dramatic drop in vehicle traffic, causing traffic delays to plummet as well. In the United States as a whole, the top 15 cities with the worst traffic in 2020 combinely dipped, on average, from 312,680 to 152,347 total hours. Employees can choose their work schedules based on their family needs and their job needs with flexible work hours and reliable internet connections. Moreover, it reduces the pressure on the roads, which is beneficial to all of us.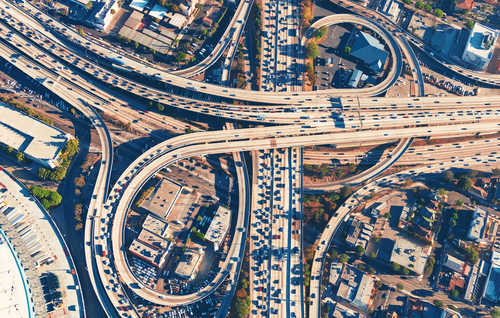 Before we start the countdown for the top 5 worst traffic cities in the country, let's have a quick peek at three cities in the world that you should avoid in a car:
Moscow, Russia – Moscow is consistently ranked as the world's most congested city by drivers. As the GPS manufacturer TomTom points out, sitting in traffic costs the average Moscovite driver eight days per year. In Moscow, it takes more than twice as long to reach a destination during morning rush hour.
Warsaw, Poland – People who have never been to Poland are surprised at how crowded it is in Warsaw. Over the past two decades, car ownership has nearly doubled, so there are more drivers on the road than ever before. Locals have been treated well by the economy, but the infrastructure has been behind the times.
Istanbul, Turkey. Istanbul is another city that suffers from traffic congestion. In the city that links Europe and Asia, the beautiful bodies of water in the middle of the city tend to cause traffic jams. In the city there are a number of bridges across waterways, and cars are notoriously backed up on them.
Worst Cities for Traffic, And the Winner is…
Based on the average hours that their drivers spent in traffic in 2020, these were the top five metropolitan areas when it comes to traffic congestion:
New York-Newark: 56 average hours spent in traffic
Boston: 50 average hours
Houston: 49 average hours
Los Angeles-Long Beach-Anaheim: 46 average hours
San Francisco-Oakland: 46 average hours
The traffic in the United States dipped to some of its lowest levels in the past 30 years, but it isn't expected to stay that way for long. By September, traffic began to pick up, and with California now fully reopened, Los Angeles could be on its way back to the top.
Perhaps now is the right time to become more environmentally conscious and opt to drive green vehicles.
With the upcoming holidays and increased traffic, why not give your car a break this holiday? Car Rental Reviews can partner you with a professional car rental company to help you get the best ride, at the best value, for your holiday road trip.