What more can be said about the Best Coast of the United States—or is it West Coast, Pacific Coast, or Western Seaboard? A rose by any name is still a rose right? In this post, we'll show you how you can enjoy the ultimate west coast road trip while saving money and hassle at the same time.
It's impossible not to be amazed by the beauty of the West Coast, now and forever—the agreeable air, the golden sands, and the faint loom of mountains not far away.
This iconic area is—and has been for generations gone past—acted as the muse that inspires writers, poets, musicians… and people wanting to go on an epic road trip. "Why would I want to go on a West Coast Road Trip?", I telepathically hear you think—and I gasp! Why indeed?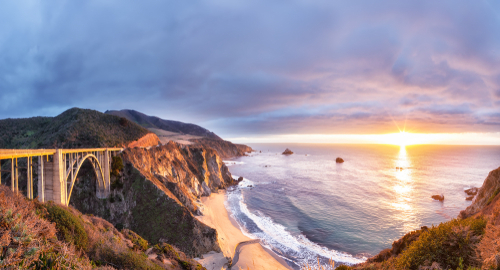 "Why the West Coast?", You ask. "Cause it's better than the East Coast!"
On the West Coast every time the sun dips its orange tentacles in the translucent turquoise-purple ooze of the Pacific, it gives you an opportunity to stop, take a breath, and hit Life's reset button. There is sublime beauty along the West Coast — from the Joshua Tree desert, to the moss-covered trees on the Olympic Peninsula.
I love the integration of urban centers, unique architectures, impressive natural attractions, and solitude. Yep—move a little off the beaten path, away from Santa Monica or Venice Beach, and head to Brandon or Astoria in Oregon or set a marker on Seabrook, Washington, or Capitola, California… away from the maddening crowds.
If that is not enough reason for you to have started packing yet, and planning your western road trip itinerary, read on for just a few paragraphs more, please… Let's unpack (I'm so punny 🙂 ), everything you need to know about how to have an epic West Coast Road Trip…and then we will see who hasn't clicked HERE to get a quote on your road trip rental?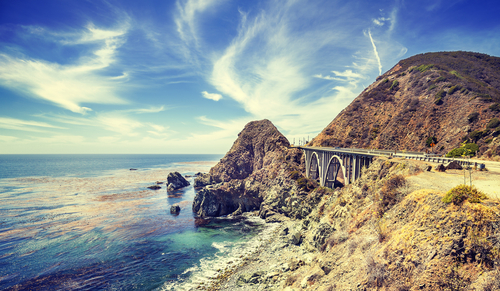 Why Rent a Car for Your West Coast Road Trip?
A rental car is typically something that people think about when they are on a business trip or when they are on vacation. It's obvious that these are good times to rent a car, however, they aren't the only ones. Car rentals are great for so many other reasons!
Overseas travelers that visit the USA, have heard about our good public transportation systems, but keep in mind that you will be bound by bus and train schedules and pretty limited in where and when you can go anywhere. Hiring a car puts YOU in charge of your itinerary – go wherever you want, whenever you want. If you are planning a visit to the U.S.A. why don't you CLICK HERE to see what ultimate freedom on your holiday will cost you.
It depends on your location…
Granted, there are some places that are better served by having a car than others, but when you decide to visit some of the iconic West Coast road trip stops, a rental car is a must.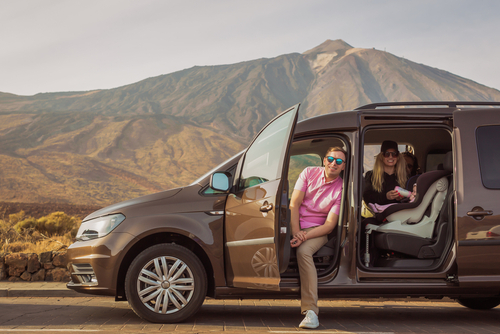 Rental car deals make it easy to rent a car for any occasion. Here are my chosen reasons why renting is the way to go for your West Coast road trip.
I find it very convenient. The flexibility and convenience of owning your own car cannot be matched by any other form of transportation. It offers total flexibility and total freedom of movement. Timetables and schedules aren't required, and your plans can change as you go. A vacation is not complete without spontaneous detours, after all, right? We've all seen how fun it can be when you take a 'Wrong Turn!"
When you only have a couple of days to see as much as possible, time can become your worst fear. The last thing anyone wants to do is spend hours on trains and buses (where your only spectacular vista is the dude with glasses and a feather boa getting onto the bus, and he is looking right at you!). It often takes double the time to get somewhere by public transportation because of the frequent stops and transfers.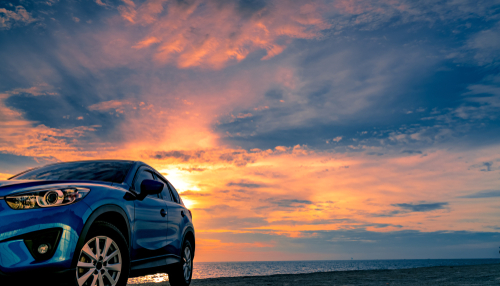 The flexibility that a rental car offers you is worth every dollar of the rental cost, in my humble opinion. The first thing that springs to mind—and I am sure everyone who has ever been on some sort of road trip, can relate to—is having to make a toilet stop. There is nothing worse if you are on a bus or train, and you just can't hold it anymore. In a rental you can simply pull over at the next off-ramp or service station.
If your itinerary seems to shape up to one where you have to use a lot of public transport, consider a rental.
It costs about $30 per day to rent a car. The price you pay depends on a variety of factors, including where you are located, how much insurance you have, and which model of car you opt for. It is still much less than the cost of taking a taxi or joining a tour bus. If you had planned to hail a cab, renting a car at the airport can save you money off the bat.
When you calculate your costs, it is important to remember to account for things like gas, insurance, and parking. Consider going for smaller and greener models if you wish to save money and estimate your gas consumption and distances. Choosing a fuel-efficient vehicle will help you stay within your budget.
Consider how much you would be spending on cabs, transfers, and day tours that you would be able to do on your own if you had a car. Compare that to the cost of renting a car. It might be more economical to use trains and buses if you're traveling alone, but for a family or small group, a car rental can really save you money. While tour buses charge per person, renting a car for four people won't cost you any more than if it was just yourself.
Take advantage of something more comfortable. On the subject of road trips, perhaps your daily ride is not quite as shipshape as before, or your sub-compact that is city perfect, won't hold a suitcase… Then a rental is the perfect solution. Not only will you save wear-and-tear on your car, but that loose seat spring will also not prick your left bum cheek for hours on end.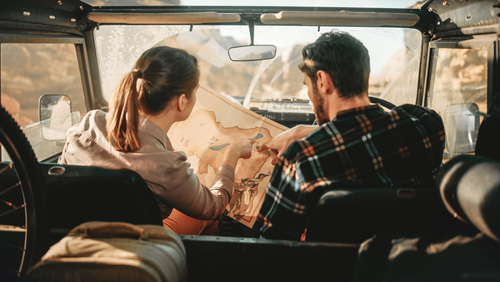 Long drives make for the perfect rental opportunity. Select a spacious rental car… something that glides across the highways like Fred Astaire on a dancefloor. Your family, and you, will want a vehicle with enough room for you and your luggage.
Renting a car is a great way to reduce the wear and tear on your car, whether you have a new one and want to keep the mileage low, or an older one that you want to keep going. Instead of driving your own car cross-country, consider renting a vehicle for your next road trip. A rental car company keeps its cars well maintained with safety features fully functioning.
A vacation can be made or broken by your choice of transportation. Renting a car is a more sensible option than taking public transportation, which may limit your destinations. Hiring a car will allow you to travel like a local and see more places.
Car Rental: Airport Pick-up or City Pick-up?
A Nebraskan named Joe Saunders, who in 1916 decided to lend his Model T to local and visiting businessmen, may have been the first in the U.S. to start a car rental business… He also started the conundrum that began not long after that. Do I pick my rental up at the airport or in the city? One is cheaper, the other more convenient… Now what?
Convenience vs Cost – it's really up to you.
Car rentals at airports incur a lot of fees that off-airport rental locations don't have to charge. Taxes are one of the biggest factors and it is not uncommon for airport taxes to be two or three times higher than the tax bill off-airport. The problem isn't limited to taxes; other forces are at play in the market. The costs of conducting business at or near a major airport can be higher than they are at less prestigious locations, where office space and parking lots are more plentiful.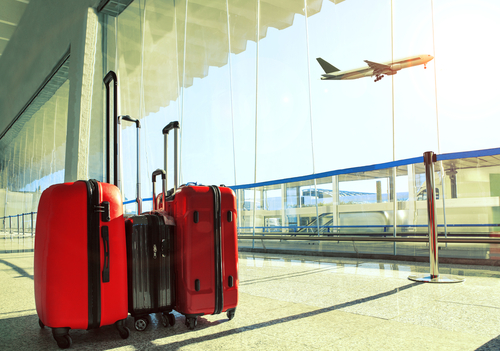 Advantages of picking up your rental car at the airport
There are pros and cons to either a city or an airport rental pick up. Let's look at some of the plus points of collecting your rental at the airport:
1. Pick up is easy
The biggest pain in the butt with going into the city to pick up your rental, instead of just walking to the one at the airport, is obviously the inconvenience and cost of having to commute to the off-airport company. You might also be considering collecting from an airport location for this exact reason. If you are flying into the West Coast to start your road trip, it just seems logical to pick up from where you are right? It also saves you the cost of a ride from the airport, to the city.
2. Safety
In some places, renting a car at the airport is safer than relying on public transport or ridesharing services. You only deal with the people in the rental car office, and you are immediately in charge of where you can go.
3. Spoilt for Choice
Most rental companies have a large fleet of vehicles available at airports, so the odds are in your favor when demand is high. Even though the fleets are bigger, the demand for car rentals at airports is also greater.
We recommend booking in advance during busy times—a few weeks is usually enough for most locations to guarantee your rental car.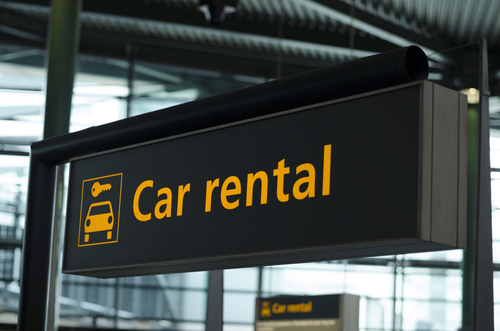 Advantages of picking up your rental car at a city location
There are at least a few situations when picking your rental up from a city location will be the best for you.
Near Your Hotel or Home
Who said you need to rent a car only when you're away? There are so many situations where you may want/need a rental car, including road tripping with friends, needing more room in your own vehicle, and many more. If this is the case then it might make geographical sense to rather pick up from the closest location.
Extra fees at airports
Some countries, including the US, charge additional fees for airport locations, something you will not encounter when pick up is off-site. The fee for this isn't paid separately, but is charged as part of the rental fee.
Comparison-shop for Car Rentals
Ultimately, you should always compare prices and find the best deal based on your needs.
For more information on this topic, I recommend reading our blog on pick up and drop off tips as well as our article on returning rental cars at the airport.
Don't forget these road trip must-haves:GPSRear view and Dash cameraCompact First Aid KitNB! The most epic playlist that will accompany you on a 5 day West Coast Road Trip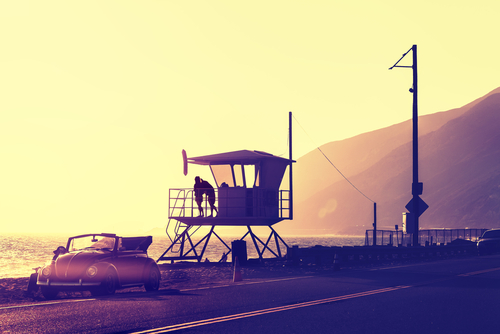 Welcome to the Hotel California—Pacific Coast Highway
Miles: 656
Starting point: Dana Point (Orange County)
End destination: Leggett (Mendocino County)
Located along the California coastline, State Route 1, or Highway 1, is one of the most spectacular road trips in the world. Driving this highway is like the greatest hits of California. There's so much to see and do that we recommend taking your time and paying attention to the details rather than hurrying through.
In need of a romantic road trip for two? The West Coast always delivers endless opportunities for love.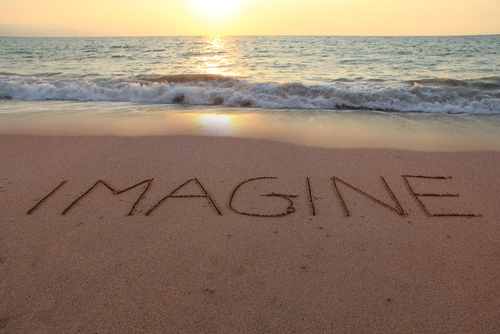 You can write love letters in the sand at Huntington, Laguna, or any of the many scenic beaches of sunny southern California, then hop in your rental and head North. As you pass through San Simeon, keep an ear out for elephant seals, and an eye out for zebras after you admire Spanish colonial architecture in Santa Barbara. Then, drive along the forested roads by Big Sur, stopping often to admire mountain peaks that abruptly end at sea cliffs.
If you're heading to Monterey, pay homage to John Steinbeck at Cannery Row, then bundle up for a trip across the Golden Gate to foggy San Francisco. Just after crossing the Golden Gate Bridge, it typically clears. Thereafter, the road becomes narrower and more remote as it winds through Marin County's hills. Take a picnic basket to the Point Reyes National Seashore and enjoy some aphrodisiac oysters in Tomales Bay.
Take a stroll along driftwood-lined beaches in Mendocino, and make your way north to continue on your journey. In Leggett, Highway 1 becomes Highway 101, but this route continues along the Pacific more or less all the way into Oregon.
Hi Ho Silver – Highway 395 Takes you to the Eastern Sierras
Miles: 232
Starting point: Lone Pine
End at: South Lake Tahoe
While Highway 1 follows the coast, Highway 395 follows the Sierra Nevadas—California's backbone—as it follows the Sierra Nevadas. The Eastern Sierra is not just about sunsets and beaches, but about prehistoric forests, historic mining towns, and all sorts of geographical features. Lake Tahoe is just four hours away from Lone Pine (seven, if you drive from Los Angeles) but it would be a good idea to plan on a four- to five-day excursion.
The journey begins in Lone Pine, an old mining town near Sequoia and Death Valley national parks. The Alabama Hills are a popular filming location (The Lone Ranger, Gladiator, and Django Unchained), and you can hike among the boulders, arches, and jagged peaks, before heading north to the Great Smoky Mountains.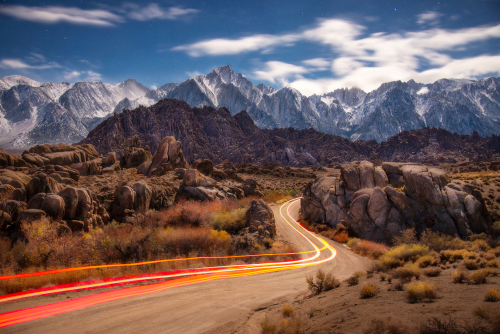 Visit Manzanar National Historic Site before you leave to pay your respects to the 110,000 Japanese Americans who were incarcerated during World War II.
Visit Ancient Bristlecone Pine Forest—home to some of the oldest trees on earth—after stopping for pulled pork and ribs at Copper Top BBQ in Big Pine. As you pass the climber haven of Bishop, keep an eye out for hot springs. Both Wild Willy's Hot Springs and Hot Creek Geologic Park are worth a stop, but keep listening as you continue north for some secret spots that locals may share with you.
You will pass Mammoth Mountain, a popular ski resort, as well as Mono Lake, with its mud-drip rock formations, a bit further along Highway 395. Those headed westward to Yosemite may take a detour to explore the ghost town of Bodie off Highway 270. Drive south on Highway 89 towards South Lake Tahoe from Highway 395, where you can end your adventure at a place once described by Mark Twain as providing the "fairest picture that the world has to offer".
Interested in Planning an Epic West Coast Road Trip?
Planning a road trip is one of the most exciting life experiences. If you are looking at healthy eating options while on your West Coast Road Trip, read our article on healthy road trip meals.
We can help you find the perfect vehicle with a reliable rental partner, leaving you only to worry about how many awesome Instagram photo opportunities you'll enjoy. Whether you want a RV or a luxury sedan—we have you covered.