Do you dream about a big American road trip with visits to all the top US landmarks? Well, here's your A-Z checklist of all the places to visit along the way, starting from Alabama and ending in Wyoming…
In spite of the fact that America is only a relatively young nation, its past is diverse and complex—as evidenced by monuments and historic sites across the country. From tributes to indigenous people to incredible feats of engineering; coast to coast, the United States of America is filled with places waiting for you to discover them.
There is nothing that fills us with more excitement, romance and pure anticipation, than planning a road trip. Are you tired of browsing through Windows 10 and would rather enjoy incredible places seen through your windscreen in real life? Do you want to drive on the open road where the only windows are the ones that wind down so that you can smell and feel America?
You can either switch to Netflix and watch some top travel movies, or you can start planning your road trip today with this guide to some of the top US landmarks.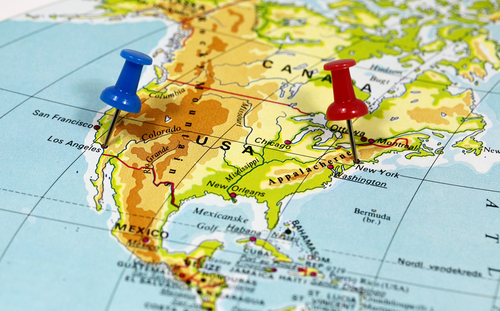 You can save fuel and wear and tear on your personal vehicle and still explore this amazing country and top US landmarks by renting a car. Here's how!
If you are looking to rent the perfect car for your experience, Car Rental Reviews can connect you with the right company. Listed below are places that should be on any road trip list, in our humble opinion. Here are our top picks for US landmarks to visit in 48 states…
Don't miss out on our list of driving tips for Americans and foreigners visiting our beautiful country and exploring our top US landmarks.
And of course, you want to establish your road trip budget before you set off.
Buckle up, and let's hit the road on a virtual trip to the top US landmarks.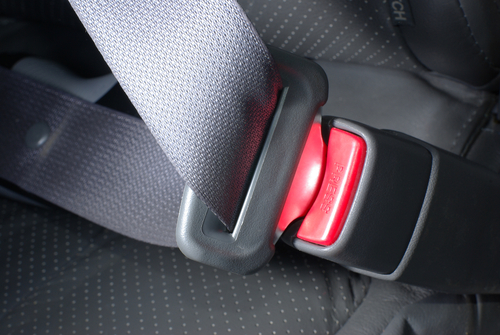 Top US Landmarks to visit in Alabama
Located in the southeast, Alabama is home to many noteworthy Civil Rights Movement US landmarks. Birmingham's 16th Street Baptist Church, now a museum, served as a protest headquarters in the 1960s. There is a museum dedicated to Rosa Parks in the capital of Montgomery, where you can also find MLK's church. Alabama is not short on US landmarks.
Huntsville – The U.S. space program made Huntsville famous as Rocket City. Following World War II, chemical munitions facilities were converted to space use and the United States launched its first satellite here in 1958. Huntsville is now home to NASA's Manned Space Flight Center. Some of the city's historic homes date back to the early 1800s. In addition to Space Camp, Alabama Constitution Village has reconstructed Federal style buildings, whereas Clay House has a collection of Noritake porcelain and the Veterans Memorial Museum has a collection of military vehicles.
Birmingham – This city was based upon Birmingham, England, and was built during the Civil War Reconstruction. Today, it is the largest city in Alabama and because it once served as the South's industrial hub, the city was coined the "Pittsburgh of the South." It hosts the largest museum of art in Alabama (Birmingham Museum of Art) and has ballet, symphony and opera companies as well as several performance halls. Some popular music and film festivals take place in Birmingham, including the Sidewalk Moving Picture Festival that attracts filmmakers from around the world.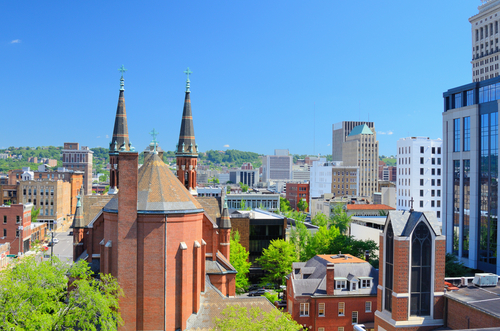 Road Tripping in Arizona: Setting of some of the top US landmarks
This southwestern state is filled with breathtaking scenery, vibrant cities, and quaint small towns. Visitors from around the world flock to the Grand Canyon, but those who venture further into the state will find unique US landmarks to explore and fascinating sights. Cities and towns like Phoenix and Sedona make great vacation destinations, but they are not the only things to explore in southwestern Arizona.
You can also visit Native American cliff dwellings and historic ghost towns from days gone by. The landscape of Arizona is also ideal for outdoor adventures. The area is full of natural wonders for tourists to explore: deserts, lakes, mountains, saguaro cactus, waterfalls, and even a volcano that you can ski on top of.
Arizona is a rugged area, so if you want to make the most of your road trip to this state, consider renting an SUV that fits the whole gang.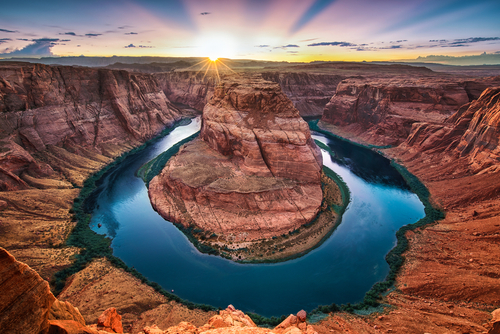 Grand Canyon – Peering over the endless ridges of brightly colored cliff walls and deep ravines as you stand on the edge of the canyon, it's impossible not to be awestruck. Afternoon sun illuminates the canyon, revealing shades of orange, red and yellow. Grand Canyon is one of America's best-known US landmarks and is invariably one of the top attractions in Arizona. It is a place that has to be experienced to be fully appreciated. Almost all visitors head to the South Rim of the Grand Canyon, where lookouts dot the roadside and walkways run along the canyon's edge. The North Rim offers an entirely different view, but unfortunately is not accessible by car in winter. From Eagle Point, you can see the glass bridge, known as The Skywalk, jutting out over the Grand Canyon, about a 2.5-hour drive from Las Vegas. There are hiking trails that offer access to breathtaking lookouts and a route to the canyon floor for those who wish to get a closer look. Try a helicopter flight over or into the Grand Canyon if you want less physical activity.
Jerome – Perched on the edge of a mountain above the desert floor, Jerome is an old mining town that became a ghost town that is now only haunted by tourists. The path through town is steep with switchbacks and lined with interesting shops and restaurants. The old buildings have for the most part been restored, but some remain in ruins, creating a very interesting spirit. Jerome State Historic Park and Gold King Mine Museum provide insight into the town's history. It is a popular day trip destination from Sedona, Prescott, Phoenix, or Flagstaff and if you want to stay the night, you can do so. Jerome is, to put it mildly, unique, although some might call it quirky. Originally, Jerome's Sliding Jail was constructed around 1928. It was built on a clay slick and soon began sliding, causing it to move 2,500 feet from its initial location. A former jewel of Jerome, the Bartlett Hotel stands in ruins today. The Jerome Grand Hotel was built in 1927, and it offers panoramic views of the Verde Valley.
It's probably a good idea to consider renting a car with unlimited miles when you visit Arizona and most of these US landmarks.
All-Out in Arkansas
With mountains, caves, rivers, waterfalls, and hot springs, this southern state is known for its abundant parks and wilderness areas as well as many top US landmarks.
You can explore limestone caves like Blanchard Springs Cavern in the rugged Ozarks region to the northwest. Little Rock is home to the Clinton Presidential Center, which contains Bill Clinton's presidential archives. Arkansas is known as 'The Natural State' due to its stunning scenery and mountains, including the Ozark and Ouachita mountain ranges. Arkansas also has a number of charming towns and cities including Eureka Springs, Hot Springs, and Little Rock. Each has a rich history, architecture, and heritage. Little Rock is the state's economic, cultural, and political capital.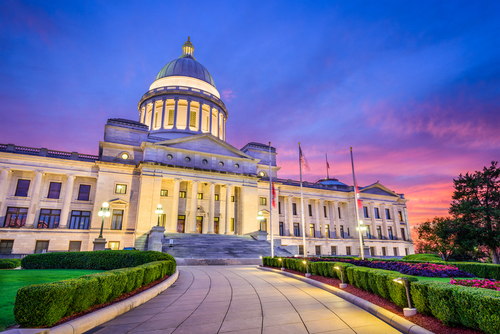 Bentonville – Situated in northwest Arkansas, Bentonville is known as the home of Walmart, the world's largest retailer. A once sleepy town has become an extremely cosmopolitan and charming place because of its booming business. While it's many corporate offices and unending urban sprawl are unremarkable, the center is full of artisanal stores, cosy cafes, and local restaurants. A number of picturesque parks are also scattered about, and the Crystal Bridges Museum of American Art is one of the most impressive. Having said that, the little city is also a perfect starting point from which to explore Eureka Springs and Branson, as well as the beautiful Buffalo River and the Ozark Mountains.
Hot Springs – The magical city of Hot Springs lies in the Ouachita Mountains, and has long been known for its healing waters. The town gained popularity as a spa town in the late 19th and early 20th centuries, when luxurious bath houses sprang up around its thermal springs. Since bootlegging and gambling were prevalent, mobster types like Al Capone and Lucky Luciano used to vacation here amongst some of the top US landmarks.
California College Road Trip Destinations
Located in the west, California stretches nearly 900 miles along the Pacific coast. Among the landscape's varied features are beaches lined with cliffs, redwood forests, mountains in the Sierra Nevada range, farmlands in the Central Valley and the Mojave desert. Los Angeles is the center of the Hollywood entertainment industry while the undulating San Francisco is home to the Golden Gate Bridge, Alcatraz and cable cars.
Here are some of the destinations to include on your family or college road trip.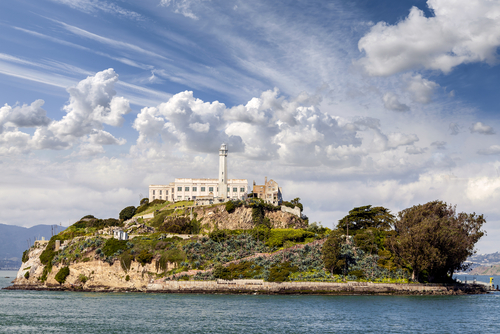 Yosemite National Park – is located in California's Sierra Nevada mountains. A famous feature of the area are the giant ancient sequoia trees, El Capitan, and Half Dome. Tunnel View offers the most incredible views of Bridalveil Falls and plays witness to incredible sunrises. There are shops, restaurants, accommodation, a museum and a gallery of Ansel Adams' landscapes in Yosemite Village. Designated a World Heritage Site in 1984, Yosemite is one of the largest and least fragmented habitat blocks in the Sierra Nevada, and the park supports a diversity of plants and animals.
Alcatraz Island is located 1.25 miles offshore in San Francisco Bay. As part of the island's development, a lighthouse, a military fortress, a military prison, and a federal prison were constructed. The latter was operational from August 11, 1934 until March 21, 1963. It was nearly impossible to escape from this island because of the strong currents and cold water temperatures.
The Disneyland Resort – Is located in Anaheim and features two theme parks, shopping, dining, three hotels and fun in Downtown Disney.
Other places not to be missed during your road trip are Orange County, Anaheim, Long Beach and the Queen Mary floating hotel.
California is a great place to start your Death Valley road trip.
Top US Landmarks in Colorado
The western state of Colorado has an assortment of landscape types, from arid desert and river canyons to the snow-covered Rocky Mountains. Ancestral Puebloan cliff dwellings can also be found in Mesa Verde National Park. Located a mile above sea level, Denver is Colorado's capital and largest city.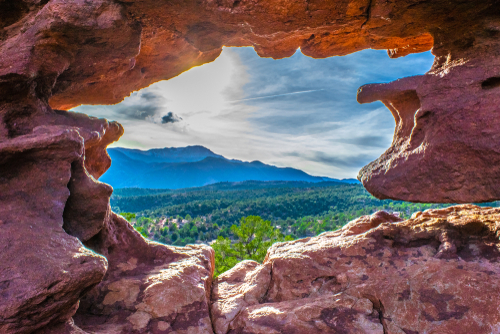 Aspen – A ski resort town in Colorado's Rocky Mountains, Aspen provides outdoor recreation all year long and is known for upmarket eateries and boutique shops. The Wheeler Opera House was built in 1889 during the area's silver mining boom. The Wheeler-Stallard House is a local history museum located in a 19th-century Queen Anne-style house, and the Aspen Art Museum displays contemporary art.
Denver – Founded in the Old West, Denver is the capital of Colorado. The oldest block of the city is Larimer Square, which features 19th-century buildings. Museums in the area include the Denver Art Museum, an ultramodern complex featuring indigenous art, and the mansion where Titanic survivor, Molly Brown lived. In addition, Denver provides a gateway to nearby ski resorts in the Rocky Mountains
Colorado Springs – No wonder Katharine Lee Bates was moved to compose the lyrics for "America the Beautiful," one of the most popular patriotic songs of all time, in this pretty and romantic town In one direction you'll see the resplendent "purple mountains:" of the Colorado Rockies. Look in the opposite direction to see the "amber waves of grain" that are the Great Plains. The city also hosts the Air Force Academy and the Olympic and Paralympic Training Center.
Top US Landmarks in Connecticut
Connecticut is a state in southern New England that comprises coastal cities and rural communities. At the Mystic Seaport museum, you can see centuries-old ships, and at the Mystic Aquarium, you can see beluga whale exhibits. New Haven, which borders Long Island Sound, is home to Yale University and the Peabody Museum of Natural History.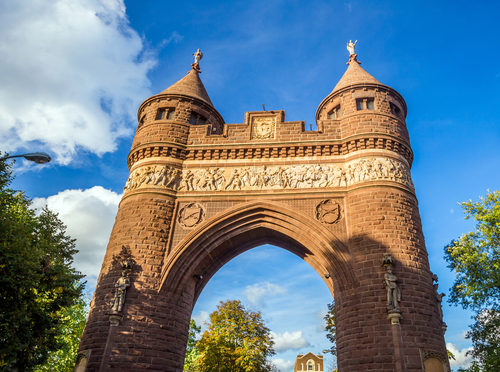 Hartford is Connecticut's capital city. You can visit Mark Twain's house and museum here. There are thousands of artifacts in the mansion, including the desk at which Twain wrote his most famous works. The Harriet Beecher Stowe Center includes the writer's Victorian house complete with period furnishings and a garden. The Wadsworth Athenium Museum of Art houses a broad collection of Renaissance and impressionist works.
New Haven – a coastal city on Long Island Sound and home to the Ivy League Yale University that was founded in 1701. Yale University Art Gallery, Yale Peabody Museum of Natural History, and the Yale Center for British Art are some of the institution's museums. A 19th-century Egyptian Revival gate graces Grove Street Cemetery, which dates from the late 18th century. The New Haven Museum focuses on local history.
Mystic – It's beautiful harbor really is a picture-perfect example of Mystic's beauty. The town straddles the banks of the Mystic River and used to be an important shipbuilding port and whaling center – as such, wealth from all over the United States poured in. Consequently, there are some delightful architectural features nestled along the waterways, as well as marinas brimming with yachts and other craft. Mystic's Seaport Museum is not only the most popular attraction in town but in the entire state. A visit to the town's fantastic aquarium and the majestic historic ships anchored in port is also a must.
Top US Landmarks in Delaware
The small state of Delaware borders the Atlantic Ocean, Delaware Bay, Delaware River, and Delaware River on a peninsula marked by dune-backed beaches. The Old State House, a Georgian-style building, is a part of First State Heritage Park, located in Dover, Delaware's capital.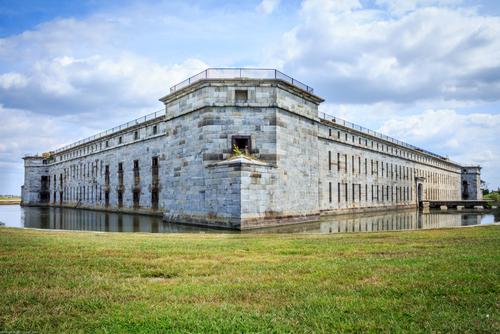 Hagley Museum and Library – Tour Delaware's original du Pont family home, Eleutherin Mills. There is a museum and library on Hagley Estate, as well as the estate's extensive gardens and gunpowder mills. The building dates to the early 19th century, and represents the cultural taste of the time. Technology and business innovation are the focus of the library and the mill itself has illustrations showing how gunpowder was made. As an added bonus, there is a beautiful collection of antique cars in the barn
Known as a 'park without boundaries,' the First State Heritage Park is an urban park that connects cultural and historical sites throughout the city. Delaware's capital has been Dover since 1777, and the park pays homage to that history. The park's attractions are open most days of the week, but every month special events are held. At Woodburn, you can tour the governor's house, follow the Delaware History Trail, and relax on The Green.
Top US Landmarks in Florida
With the Atlantic Ocean on one side and the Gulf of Mexico on the other, Florida is the southeasternmost state in the United States. Beaches stretch for hundreds of miles.
In addition to its Latino cultural influences and notable arts scene, Miami is widely renowned for its nightlife, especially in the upscale area of South Beach. Disney World and other theme parks attract thousands of tourists to Orlando each year.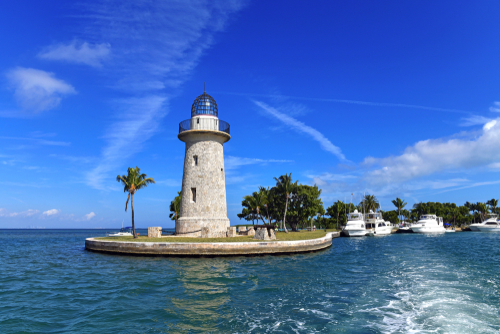 Sarasota – A city like none other that features an impressive list of art-centric sites and activities like the Ringling Museum of Art, Art Center Sarasota, and many craft fairs and festivals. This waterfront city has also become a major attraction for ballet, opera, and circus acts. The circus is deeply ingrained in Sarasota. John and Charles Ringling moved to Sarasota shortly before it became a city in 1913. Ca' d'Zan, John Ringling's former home, is now one of the city's top attractions. Sarasota's close proximity to Sarasota Bay and the Gulf of Mexico makes it a popular destination for nature lovers as well. Visit the Marie Selby Botanical Gardens, Lido Beach, and Myakka River State Park when you're not admiring the picturesque views from one of the area's golf courses. Additionally, Sarasota has one of the state's largest Amish and Mennonite communities.
The Sunshine City – St. Petersburg holds the Guinness World Record for the most consecutive sunny days. It creates a unique fusion of traditional beach getaway and urban atmosphere for visitors. The white, sandy beaches offer views of spectacular sunsets and the 7 miles of waterfront parks invite travelers to enjoy a host of activities, including hiking, camping and kayaking. The ongoing creative renaissance also promises a rich cultural experience, whether through world-class theatre or the arts – visit the Dalí Museum or the Museum of Fine Arts. The city hosts more than 1000 events yearly, ranging from St. Anthony's Triathlon to the Ribfest, a barbecue and music event.
Key West and Tallahassee are also on the 'to visit' list in Florida.
Top US Landmarks in Georgia
Southeastern Georgia has coastal beaches, farmland, and mountains. Georgia Aquarium and Martin Luther King Jr. National Historic Site is located in the capital city Atlanta. The site is dedicated to the life and times of the African-American leader. There are numerous squares and parks in Savannah, known for its architecture from the 18th and 19th centuries. The Masters golf tournament is held in Augusta and you will soon see that there is a lot more to Georgia than its peaches. From big cities and small towns to picturesque mountains and beaches, Georgia offers a wide variety of attractions.
Take a drive from Atlanta to Savannah and take in some of the most amazing sites, sounds and US landmarks.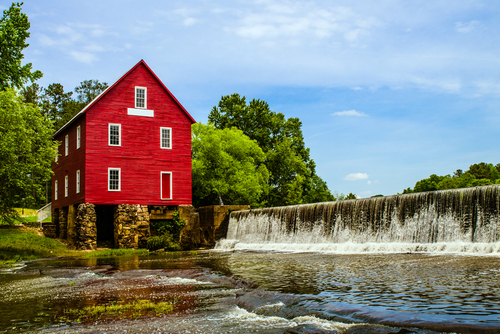 With its Spanish moss, Southern accents, and creepy graveyards, Savannah reminds you of Charleston, NC. However, this southern city has an eccentric streak. Ghost hunters and preservationists mix with art and design students while edgy cafes vie with traditional Southern restaurants on street corners. But if this is not your "box of chocolates" as Forrest Gump explained (The movie was filmed here), the city's past pours out of every building. Savannah is home to one of the oldest Black churches in North America and Fort Pulaski acted as a place of safety for slaves trying to escape. Whether you're visiting Savannah for the history, the sights, the delicious Southern cuisine, or to spend a few days and nights bar-hopping, this city has something for everyone.
For history buffs, Athens is a must-see. Georgia's Antebellum Trail begins in the city, with 17 historic districts that feature homes from the Civil War era. The University of Georgia was the first public university in the United States, housing notable institutions such as the Georgia Museum of Natural History, Georgia State Botanical Garden, and Georgia Museum of Art. Shops, restaurants and live music venues in Downtown Athens offer a more modern getaway.
Top US Landmarks in Idaho
The state of Idaho is known for its mountainous landscapes, as well as vast stretches of wilderness and outdoor recreation areas. A popular place to go rafting or fishing is on the Boise River, which bisects Idaho's capital, Boise. There is a zoo and rose garden in the city's riverfront Julia Davis Park.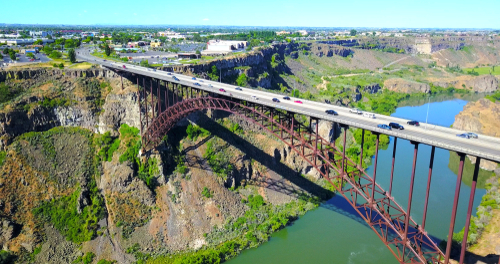 Idaho's capital city is Boise. Boise River Greenbelt features trails lined with trees and parks that surround the water. Boise Art Museum has a sculpture garden and contemporary art displays in an art deco-style building. Nearby is the sandstone Idaho State Capitol Building. The Old Idaho Penitentiary features gallows and prison cells from the 19th century, as well as historic military weapons.
Sprawled on top of a hot spot for volcanic action, Yellowstone National Park comprises nearly 3,500 square miles of wilderness distraction. Although mostly in Wyoming, the park extends into parts of Montana and Idaho as well. Yellowstone is characterized through its overstated canyons, clear rivers, dense forests, hot springs and spouting geysers, most famously, Old Faithful. Numerous animal species live within the park, including bears, wolves, bison, elks, and antelopes.

Yellowstone's Zone of Death, Island Park, is a 50-square-mile section of the park where murder is legal. A loophole in the law is the guilty party.

Ernest Hemingway's Grave can be seen in the Ketchum Cemetery, Sun Valley. His grave remains a humble affair in an Idaho cemetery, despite his world-famous work and larger-than-life personality
Top US Landmarks in Illinois
The midwestern state of Illinois borders Indiana to the east and the Mississippi River to the west. The Prairie State is characterized by farmland, forests, rolling hills and wetlands. A major U.S. city located on the shores of Lake Michigan, Chicago offers many skyscrapers, such as the gleaming 1,451-foot Willis Tower and the neo-Gothic Tribune Tower.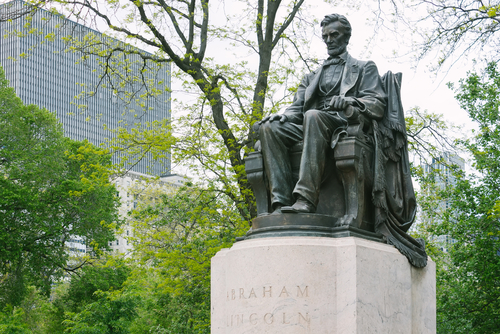 Lincoln monuments abound in Springfield, the city of the first president. Become part of history when you visit Abe's house, his law offices and of course the museum. Enjoy the diners and retro attractions along Route 66.
The small town of Galena in the northwest boasts well-preserved 19th-century architecture like the Dowling House, built in 1826. Local citizens gave the Italianate Ulysses S. Grant Home to the Civil War general who later became President of the United States. On the outskirts of Galena, Horseshoe Mound provides views of three states. At Casper Bluff, you can see ancient ceremonial sites thought to date back thousands of years.
Top US Landmarks in Indiana
Midwest Indiana is the 38th largest state by size and became part of America as the 19th state on December 11, 1816. With so much on offer for folks who enjoy cars and driving, this state should be high on your list of road trips to be planned.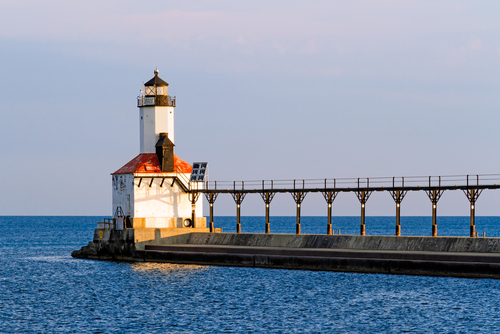 Located in South Bend, Indiana, The Studebaker National Museum houses a variety of vehicles from Studebaker Corporation and other aspects of American history.
Indianapolis Motor Speedway Museum – The Indianapolis Motor Speedway has seen speedsters battling since 1909. The humongous museum that was built circa 1960 features a theatre rolling historic Indy 500 footage and there are more than 70 cars on show.
The Children's Museum of Indianapolis – is the world's largest museum for children and encompasses nearly 480,000 square feet and features 11 different galleries. Exhibits include a planetarium, "Dinosphere: Now You're in Their World" (it has an archeological dig), the "National Geographic Treasures of the Earth" display, with replicas of three archaeological sites including a pirate shipwreck and China's Terracotta Warriors. In addition to the skeleton of a 12,500-year-old mastodon, the museum has its own carousel.
Top US Landmarks in Iowa
The Hawkeye State lies between the Missouri and Mississippi rivers in the Midwest of the U.S. The region is characterized by rolling plains and cornfields. In the state capital, Des Moines, you can visit the gold-domed, 19th-century State Capitol Building, the Pappajohn Sculpture Park, and the Des Moines Art Center, which has an impressive contemporary collection. Grant Wood's paintings are on display at Cedar Rapids' Museum of Art.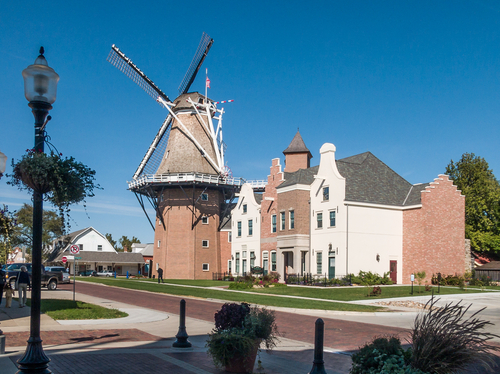 The Grotto of Redemption's shrine is in West Bend. The nine caves reflect Jesus's life and have the world's biggest collection of petrified woods and minerals. It also happens to be Earth's largest grotto. It is estimated that the minerals and rocks that built the cave are worth $4,308,000. The shrine receives over 100,000 visitors a year and there are displays of semi precious and precious stone specimens from all over the world, artifacts, and photographs of the shrine's construction.
Dubuque is on the Mississippi River and is home to The National Mississippi River Museum and Aquarium. There are rose, herb, and Japanese gardens at the Dubuque Arboretum and Botanical Gardens in the northwest. Located on 20 acres with a log cabin dating from 1833, the Mathias Ham House is a palatial 19th-century mansion. South of the area, there are trails and wildlife at Mines of Spain State Recreation Area.
Top US Landmarks in Kansas
Kansas conjures up images of yellow brick roads and scarecrows and in truth, the Sunflower State has surprises around nearly every corner. Topeka is its capital, and Wichita is its largest city. Nebraska lies to the north, Missouri to the east, Oklahoma to the south and Colorado to the west.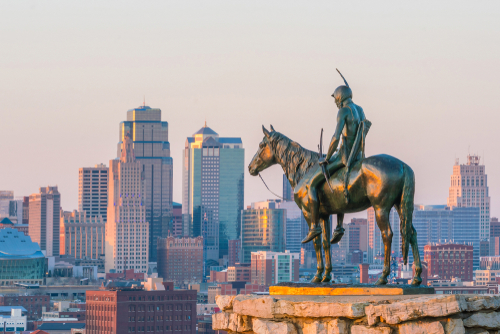 Wichita is in south-central Kansas and deserves more than just cursory drive by. Among the exhibits at Explore Place is 'Kansas in Miniature', an animated display of life in Kansas during the 1950's. Using old buildings and costumed guides, Old Cowtown Museum recreates life in the 19th century and a wildflower meadow and Chinese garden are among the themed gardens at Botanica Wichita. Drive a little further and you will find Egyptian mummies and a TRex skeleton on display at the Museum of World Treasures.
A convenient and greatly interesting stop over on your road trip is Topeka, the state capital. Here you can see the domed, neoclassical State Capitol building with its well preserved murals and statues. The Brown v. Board of Education National Historic Site commemorates the 1954 Supreme Court decision that ended racial segregation in schools while the Kansas Museum of History displays an 1880's steam locomotive. Located in Ward-Meade Historic Site is Old Prairie Town, an 1890's schoolhouse and mansion with a botanical garden.
Top US Landmarks in Kentucky
Whether it's the horses or baseball Kentucky will always be a home run on your road trip.
Frankfort is the state capital of Kentucky, a southeastern state bordered by the Ohio River in the north and the Appalachian Mountains in the east. Louisville, the largest city in the state, hosts the Kentucky Derby, a most prestigious horse race at Churchill Downs every year. The Derby is preceded by a festival that lasts a fortnight, and is celebrated year-round at the Kentucky Derby Museum.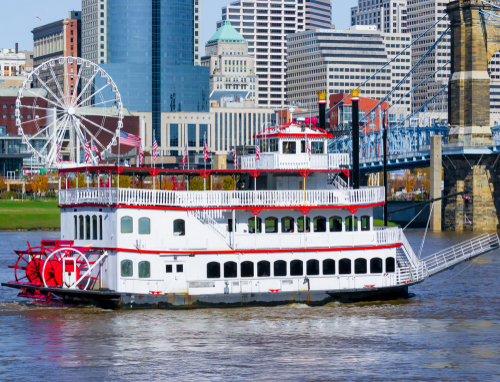 Louisville is Kentucky's largest city and its also big on deserving a pin in your road map (I mean, a destination on your SatNav). The Kentucky Derby is held annually in May, at Churchill Downs and the illustrious history can be delved into at the Kentucky Derby Museum. If horses are not your thing, steal base at the Louisville Slugger Museum and Factory. This is where Major League sluggers are made and you are welcomed by a huge bat when you enter. If you are only going to visit one city in Kentucky, make sure it's Louisville. Why not explore one of the most historic parts of Louisville, West Main Street, as a starting point? Attractions to visit in the downtown area's Museum Row include the Muhammad Ali Center, the Louisville Slugger Museum, and the Frazier History Museum. The Speed Art Museum offers interactive exhibits, while the Belle of Louisville, the city's historical paddlewheel boat, offers river cruises on the Ohio River. Fourth Street in downtown, is where you will find local theaters and entertainment with a buffet of real southern style eating places to sink your teeth into.
Steer your rental car across the Ohio River from Cincinnati and you will discover Newport in northern Kentucky, a small and fun waterfront city. Among the top attractions in Newport, the Aquarium features exhibits, penguin interaction and shark feedings. From stand-up comedy to movies, Newport on the Levee has a wide array of dining and entertainment options. Another fun thing on your Newport itinerary is to cross the half-mile Purple People Bridge, officially called the Newport Southbank Bridge. This pedestrian bridge provides one of the most breathtaking vistas of the Ohio River. The East Row neighborhood of Newport also has a nice historic district. There are about 70 historic homes spread throughout the district, which was founded in the 1700's. The World Peace Bell is the largest swinging bell in the world, so be sure to check it out on your way through the area.
Top US Landmarks in Louisiana
Louisiana is a southeastern state on the Gulf of Mexico. Cajun and Creole cultures reflect the fusion of French, African, American and French-Canadian cultures from its past. Known for its French Quarter from colonial times, Mardi Gras festivals, Renaissance-style St. Louis Cathedral and the massive National World War 2 Museum, New Orleans is the largest city in Louisiana. With so much to see, smell and taste in this state you will most certainly spend more time here than you intended, and maybe a little longer.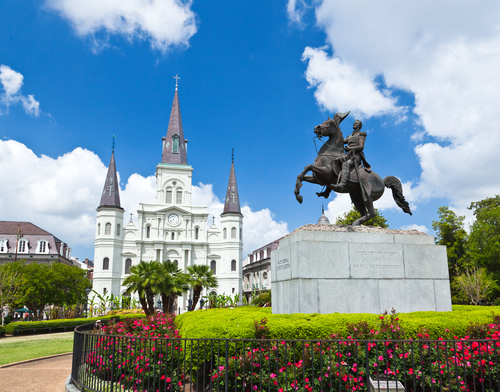 Lafayette, the fourth-largest city in Louisiana, lies deep in Cajun Country in the southwest. Discover the Acadian Village, where you can stroll through a cajun village from the 1800's, view a performance at the Acadiana Center for the Arts, try a restaurant or wedding venue and take a tour of the Tabasco Factory on Avery Island. Children will enjoy the Children's- and the Lafayette Science Museum.
Head on to New Orleans nestled on the Mississippi River and close to the Gulf of Mexico. Also known as the Big Easy, party people from across the world come here to let their hair down. Live music is a vibrant part of the city's history. A melting pot of African, European, American, and French cultures, New Orleans is historically and culturally rich. In late winter, the infamous Mardi Gras festival is held in New Orleans, known for its riotous parades and all-night parties. Among the attractions that visitors can see are the French Quarter, Bourbon Street, the National WWII Museum and Jackson Square.
Must-Visit in Maine
The northeasternmost state of the United States is known for its rocky coastline, maritime history, and natural areas such as Acadia National Park with its granite islands and spruce forests. Drive carefully here as Moose are plentiful in Baxter State Park. Here you will find Mt. Katahdin, where the Appalachian Trail ends. Coastal Maine is home to a number of lighthouses, including West Quoddy Head's candy-striped beacon, and beach towns like Old Orchard and Ogunquit offer sun worshippers the best place to spread their towels.
The city of Portland lies on the southern coast of the state along Casco Bay and is recognized as the economic, tourism, and economic development hub in the region. It has a fascinating history of industry, agriculture, and even Americana – and that's just scratching the surface. Along the waterfront of the Old Port are working fishing wharves and warehouses that were converted into restaurants and shops. Located nearby is the Western Promenade, a public park with river and mountain views. A Victorian-era neighborhood nearby, the West End, contains the Victoria Mansion Museum. You might look at assigning a designated driver because Portland has around 20 micro-breweries that produce nearly 50 000 barrels of beer in a year!
Your next stop on your road trip is Brunswick. This quaint and charming village combines a blossoming entertainment and arts lifestyle with New England magnetism.
Doubling Point Lighthouse was originally constructed back in 1898 and you will find it along the Kennebec Rice on Arrowsic Island. Restorations were done in 2000 and the walkways and lighthouse look as good as ever.
Make a stop in Maryland
If you are a patriotic American (who isn't?) Maryland should be added on your 'places to see' list. This Mid-Atlantic region is home to many waterways along Chesapeake Bay and the Atlantic coastline. The city of Baltimore is a major seaport with a long history. Here at the entrance to the Inner Harbor is where you will find Fort McHenry, birthplace of the U.S. national anthem. It is also home to the National Aquarium and Maryland Science Center.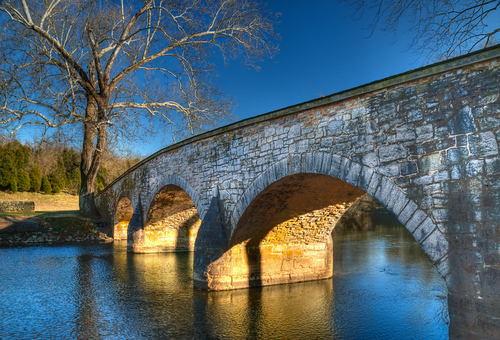 Baltimore has a long history as an important seaport. Located at the mouth of Baltimore's Inner Harbor, Fort McHenry is the birthplace of America's national anthem, "The Star-Spangled Banner". It is worth parking here and experiencing what the harbor area has to offer. From upmarket crab shacks and shops to a walk on the deck of the USS Constellation, a Civil War warship. The National Aquarium is a must if you like marine creatures.
Frederick – Civil War buffs should start their day in Frederick, a western Maryland city with deep ties to the war. Explore the Monocacy National Battlefield and National Museum of Civil War Medicine, or rent a bike and ride the 10-mile Frederick History Bicycle Loop, which passes more than 20 historical sites. After you've experienced all the historical wonders that Frederick has to offer, check out the numerous shops, galleries, and restaurants found in Downtown Frederick. The Frederick Wine Trail and Public Art Trail are located in the city center.
Chesapeake & Ohio Canal National Historical Park – aptly nicknamed, The Grand Old Ditch, this historic waterway was once used to transport coal, agricultural products, and lumber from Georgetown to Baltimore. A wide towpath offers miles of hiking trails as well as opportunities for biking, horseback riding and jogging. Moreover, the park's Great Falls Tavern Visitor Center in Potomac offers mule-drawn boat rides (for a fee), so you can learn more about the canal's history.
Top US Landmarks in Massachusetts
Boston is the most populated city in the state and also the capital of The Baked Bean state. Known officially as the Commonwealth of Massachusetts it is the most populous state in New England. This was where the first pilgrims landed with the Mayflower and deserves to be on everyone's road-tripping itinerary. Harvard University, the country's first institution of higher learning (founded in 1636), is located in Massachusetts. It seems that having a great university in your state helps the brain as 'The Codfish State' ranks first in terms of the number of residents with college degrees.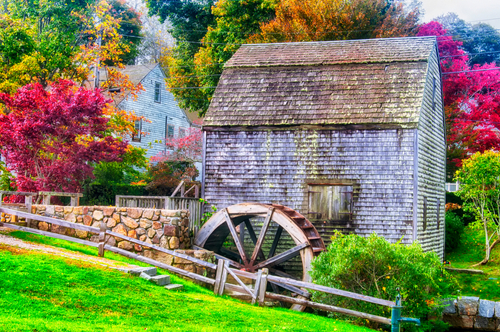 Martha's Vineyard is a triangle-shaped island around 8 miles offshore from Cape Cod. It has been a 'not so secret summer sanctuary for the wealthy for more than a hundred years. This tradition is kept alive today thanks to visits by people like Bill Murray, David Letterman and former President Barack Obama, to name-drop but a few.
Cape Cod – Known for its shingled cottages, colorful clam shacks and serene beaches, Cape Cod – or "the Cape" to locals – is a favorite summer vacation destination for New Englanders. An endless seashore is dotted with kayaks and fishing boats carrying whale watchers, and cottages and bed-and-breakfasts dot the rugged sand dunes, scenic bike trails meander along forests, and cottages line the coast around rugged sand dunes… This is where life slows down a little, and so should you—in fact you should just stop here for a while.
Top US Landmarks in Michigan
Water, water everywhere you look you will see water. This incidentally is where Michigan gets its name from. The Ojibwe word "mishigami", means "large water" or "large lake" – and so The Great Lakes state is christened. So if you plan to motor west, past the capital, Lansing to the Motor City, Detroit…that's the best!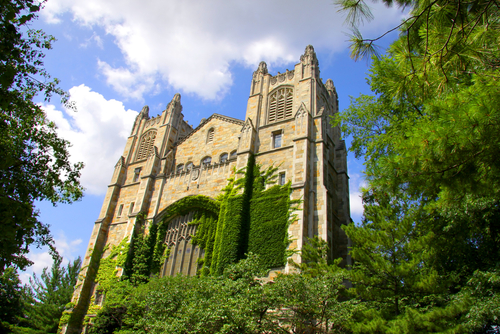 Detroit – Detroit's motto "Speramus meliora; resurget cineribus," translates to "We hope for better things; it shall arise from the ashes." Truth be told, we all know that the city's glory days of motoring have had the brakes put on them – in political terms as well as economically, and that a few of its uninhabited neighborhoods lend a Zombie-war-like feeling as you pass by. But put the past in your rearview mirror and a new and chrome-shiny Detroit awaits you. With its French roots, La Ville d'Etroit was founded in 1701 and was even compared to Paris for its beauty (a nickname it earned for its architecture and grand boulevards). Look under the hood of the city and you'll find much of the city's old charm is still there, like the matured art deco skyscrapers, and see a city busy fixing itself with new development and large green spaces.
Ann Arbor – Ann Arbor and the University of Michigan are conjoined twins – nearly impossible to separate, yet each with their own unique personality influencing the other. The buzz of football season and small herds of screen-facing scholars is strangely balanced by hidden fairy doors and gatherings like FestFools in spring and Apple Daze in the Fall. The 'City of trees' serves a ravishing Reuben sandwich and be it winter or summer, you will see a bit more of Ann Arbor's glint each time you go back to this gem of the state.
Top US Landmarks in Minnesota
Bob Dylan said this of Minnesota, "There is a magnetic attraction there. Maybe thousands and thousands of years ago, some planet bumped into the land there. There is a great spiritual quality throughout the Midwest. Very subtle, very strong, and that is where I grew up."
The state borders Canada and the largest of the Great Lakes, Lake Superior.
The North Star state has more than 10, 000 lakes, and that includes the Mississippi River's birthplace, Lake Itasca. Saint Paul, the capital of Minnesota; and Minneapolis, the "Twin Cities" are characterized by cultural attractions like the Science Museum of Minnesota and the Walker Art Center.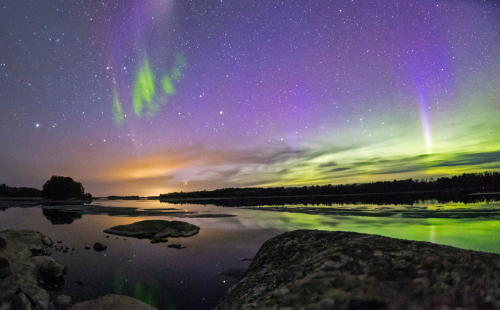 Minneapolis – St. Paul – Driving into the twin cities is much like a tale about, well about two cities actually. St. Paul's is the quieter and broody older sibling while Minneapolis is the younger, more vibey one that stays awake and parties till late. You can take the family to the Minnesota Zoo (but don't leave them there) or Fort Snelling.
Minnesota River Valley Scenic Byway – this beautiful route, parallel to US-169, begins in Belle Plaines with a population of 6,600. (45 miles southwest of Minneapolis). Wind your way south before you turn west at Mankato. Henderson has 900 citizens, as well as apple stands and a soda fountain. Passing here your next stop will be New Ulm. The town has Germanic inspired architecture like the August Schell mansion (that has a working glockenspiel) and was built in 1885. On weekends, Morgan Creek Vineyards, just east of town, offers tours and tastings.
Top US Landmarks in Mississippi
The southern state of Mississippi is the birthplace of Blues music and you can immerse yourself in Blues history while visiting the Delta Blues Museum in Clarksdale. Mark Twain wrote, "The Mississippi is well worth reading about. It is not a commonplace river, but on the contrary is in all ways remarkable." He might just as well have written this about the Magnolia State as this is really a remarkable place to see by car. The Vicksburg National Military Park is another historical site in the area.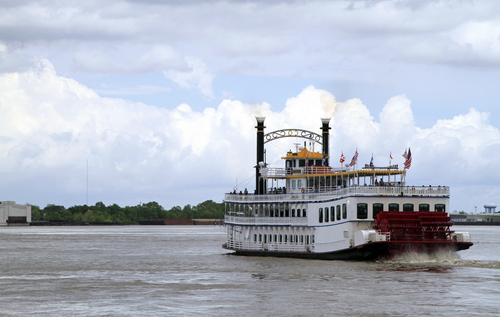 Biloxi – It is a sure bet that you will have lots to see and do when you visit "The Playground of the South". There are a few casinos built on the shoreline if you feel like a little flutter before you visit the Ohr-O'Keefe Museum of Art to see offbeat displays by local artists or venture back in time at the historic Beauvoir House to see how things used to be. If you want a day of beach fun in the sun, hop on the ferry to Ship Island.

Biloxi Lighthouse – Built in 1848, it was one of the first cast-iron lighthouses built in the South and 'manned' by local Biloxians – among them a few female lightkeepers – until 1939 when the U.S. Coast Guard adopted the post.
Ship Island – lies approximately 12 miles offshore from Biloxi and is a favorite day trip with most groups. Chillax on a sparkling white sandy beach or take a free tour of Fort Massachusetts that was built to defend the coastline after the War of 1812.
Top US Landmarks in Missouri
The state's official slogan, "Missouri – Close to Home, Far from Ordinary", describes this Midwest state near perfectly. Kansas City, St. Louis and Columbia are some of the larger cities with Jefferson City as the capital. "The Show me State", as Missouri is affectionately known, lives up to its nickname with something special showing up around practically every corner.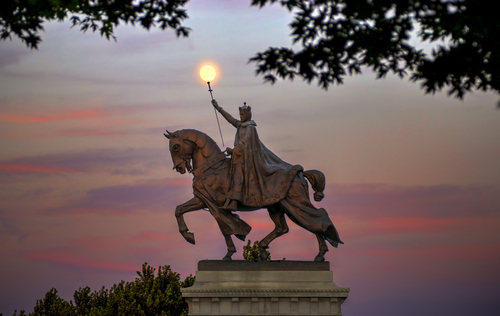 St. Louis – Lewis and Clarke started their exploration of the West in St. Louis so why wouldn't you? The city is not known as the gateway to the West without reason. Make your next move in the 'Chess Capital of the World' by having an ice cream cone at the bottom of the Gateway Arch or an iced tea at Busch Stadium…both of these iced beverages were born here! There are 79 decidedly different neighborhoods and that includes the historical Soulard. You may even save some gas money here. St. Louis has more free activities and attractions than practically any other state.
Branson – "The family-friendly Las Vegas" is famous for its bounty of family-friendly attractions. Reuben Branson, the postmaster and proprietor of the local general store around the turn of the 20th century, lends his name to this city at the foot of the Ozark Mountains in southwest Missouri. In the Silver Dollar City amusement park, a replica of an 1880s mining town, Branson still retains some of its old-time charm. The Branson Strip is lit by neon lights and lined with theaters where live shows range from country westerns to comedy routines and has a retro elegance. However, Branson is in no way a Sleepy Hollow. Amusement parks like Silver Dollar City, museums and natural attractions like Table Rock State Park abound in the area.
Top US Landmarks in Montana
Whatever it is about Montana is hard to put into words. Abe Lincoln said, "My favorite state has not yet been invented. It will be called Montana, and it will be perfect."
To say that it is beautiful or stunning, is just not enough. Calling it wild or rugged is like calling a Polar Bear white…it's so much more…Montana arouses the primal sense of adventure that is locked within us all. This is Big Sky Country and the wide-open spaces include Glacier National Park, an expansive wilderness area bordering Canada. The park's snow-capped peaks, lakes, and hiking trails are on display along the legendary, 50 mile long Going-to-the-Sun Road.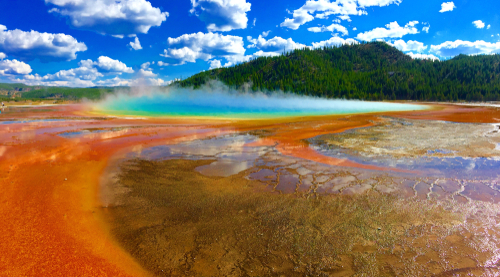 Glacier National Park – The park is known for its hiking trails, which include easy trails like the Trail of the Cedars, and strenuous ones like Grinnell Glacier. The many paths there are to take will all offer stunning views of glacial lakes, alpine meadows, and jagged peaks. Oh and in case you didn't know, Glacier National Park has more than 700 lakes.
Butte – There is so much history in Butte that it practically pours out of the earth, which is symbolic with the copper, gold and other precious metals that gave life, and a rich one at that, to this town in the late 1800's. The World Museum of Mining is a fantastic way to uncover the rough mining history of Butte. More than 30 historic buildings and structures are displayed at the museum, which is built around a restored mining camp that was in the old village of Hell Roarin' Gulch. Among the other mine-related attractions in Butte is the Copper King Mansion, built in 1888. Many of the original artifacts that reflect the prosperity of the Richest Hill on Earth are housed in this 24-room Victorian mansion. Also worth visiting is the Mineral Museum, which has over 1,300 specimens, including an 855.35 gram gold nugget.
Top US Landmarks in Nebraska
"Anyone who spends time on the road knows there's something special about being in the middle of Utah or Nebraska – you sit with it, and there's a peace about it. You can go left or right, and it opens up all kinds of doors. You take your own path."
These words from Jason Momoa paint a true reflection of what it is like to visit the 'Cornhusker State'.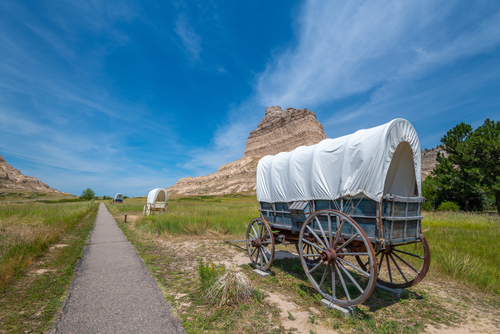 From the rolling prairies of the Great Plains, the mountainous dunes of the Sandhills and the striking rock formations of the panhandle, Nebraska is waiting to be explored. With its distinguished state capitol, Lincoln is a vibey university town and you will find the Durham Museum in Omaha. Homage is paid to the pioneering past in a remodelled railroad depot.
The Archway in Kearney spans the I-80 highway at Exit 275 and this is where American history comes alive. For eons the Great Platte River Road has been used as a migration route across the continent. Stretching back to the Oregon Trail this fun-for-all exhibit relates the tales of the pioneers who built this land.
Visit North Platte's Buffalo Bill Ranch State Historical Park to learn about William "Buffalo Bill" Cody's life and legacy. Cody's 1886 home, Scout's Rest Ranch, is a National Historic Landmark where you can view countless historical items and memorabilia from the frontiersman's second empire mansion and barn.
Top US Landmarks in Nevada
The I – 15 will take you all the way from Primm, through Las Vegas to Mesquite, where you enter Arizona. It is highly advised though to make Sin City your last stop…because you know, "What happens in Vegas…Stays in Vegas!"
Wondering whether you need to rent a car in Las Vegas? Let us explain…
In 1859 the Comstock Lode, the richest known silver deposit in the United States, was discovered in Nevada. Today, Nevada's gaming and entertainment industry is the largest in the country and if you need a place to stay, there are more hotel rooms in Las Vegas than anywhere else on earth. But there is so much more to see here than neon lights and girls wearing feathers.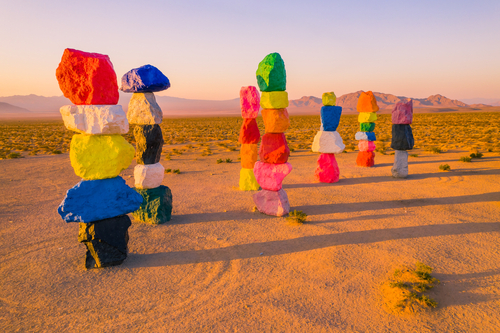 Hoover Dam, Boulder City – Hoover Dam was built during the Great Depression (1931-1936). Approximately 20,000 vehicles drive across Hoover Dam each day, and the dam receives over one million visitors a year. It was declared a National Historic Landmark on August 20,1985.
Nevada State Capitol, Carson City – The Nevada State Capitol was built between 1869 and 1871, and is the capitol building of Nevada. A national landmark, this building was added to the National Register of Historic Places on June 10, 1975.
Top US Landmarks in New Hampshire
"Live free or Die," is the Granite State's motto and there is not much that gives you the feeling of freedom than a long road trip through its quaint towns and large expanses of wilderness. The White Mountain National Forest is known for its winter sports areas and Mt. Washington, the highest peak in the region, has a cog railway that takes visitors to the top. Moose, black bears, and the Appalachian Trail are also found in the White Mountains.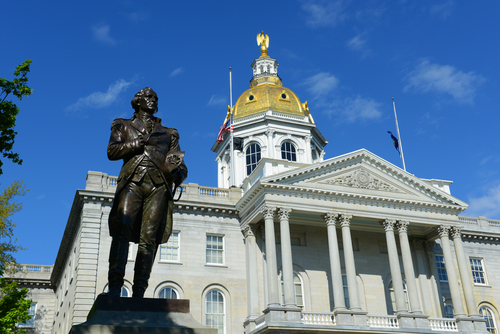 Strawberry Banke Museum, Portsmouth – Named after Portsmouth's first settlement, Strawberry Banke comprises original Portsmouth buildings. Located within walking distance is Market Square, where you can visit the 1855 North Church. Boat docks and riverside gardens are found in Prescott Park and the former research submarine USS Albacore can be seen near the visitor center.
Shaker Museum, Canterbury – The Shakers were a religious group from New Hampshire who lived a simple life. The Canterbury Shaker Museum preserves this historic way of life since the 1960s, and is a National Historic Site.
Top US Landmarks in New Jersey
Northeastern New Jersey has about 130 miles of Atlantic coastline for you to explore. Liberty State Park, across the Hudson River from Lower Manhattan, is the starting point for ferries to nearby Ellis Island, home of the Immigration Museum and the Statue of Liberty. Some notable resort towns, including Cape May and historic Asbury Park, can be found near the Jersey Shore. There are a multitude of reasons to visit the Garden State but we only have space for two.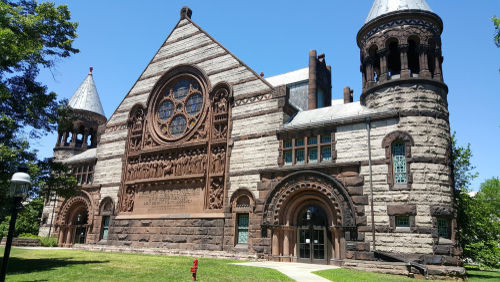 Cape May – The 'original' seaside resort in the United States has been a top summertime getaway for ages. Along with its white sand beaches, Cape May is home to some 600 Victorian buildings, including bed-and-breakfasts reminiscent of times past. No matter what you decide to do (Cape May offers some of the world's best birding spots), whether visiting wineries or exploring historical sites, you're bound to fall in love with this coastal paradise.
Liberty State Park – With views of the Upper New York Bay, Liberty Island, and Ellis Island (home to New York's Statue of Liberty), Liberty State Park has approximately 1,212 acres of waterside land. This park features a number of highlights of its own, including Communipaw Cove, a 36-acre tidal salt marsh that has been designated a nature preserve. In the park, there are two important memorials: Liberation, dedicated to the Holocaust, and Empty Sky, a 210-foot-long wall of steel with names of those who were victims of the tragic events of 9/11 and had ties to New Jersey. Recreational facilities at the park include picnic areas, fishing, kayaking, and cycling.
Must-See in New Mexico
Somehow you will always picture Road Runner and Wile E Coyote in your mind's eye when in New Mexico. With its mix of European American, Native American, and Mexican heritage, the state is a unique and colorful place to visit. All that being said, perhaps it is no wonder that New Mexico is known as "the Land of Enchantment" and a road trip here is never boring. The capital is Santa Fe, was founded in 1610 as the then capital of Nuevo México. Albuquerque is the largest city in the state and was named after The Duke of Alburquerque, a 17th-century Spanish nobleman.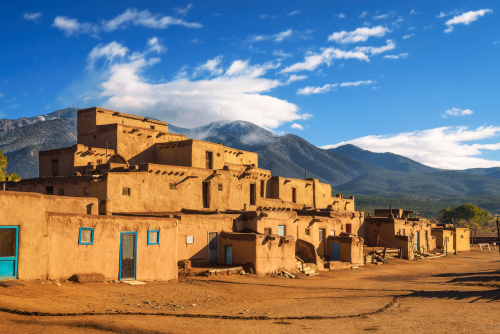 Santa Fe – truly is a city of differences, hence its nickname, 'The City Different'. The rich and varied history of Santa Fe gives it a vibrant and artistic character. Every day is different, and besides Pueblo Indian inspired architecture and Gothic cathedrals there is always the outdoors and chili-inspired eateries. Art and Santa Fe go together like Holy goes with Faith – Santa Fe translated to English means 'Holy Faith.' Galleries in the city house works by Georgia O'Keeffe, Peter Hurd, Miro Kenarov and Gustave Baumann, works that were inspired in part by the city's dynamic and evolving landscape.
Roswell – Aliens and out of state visitors have been landing here since 1947 when it was first reported that a UFO crashed on a farm just outside town. This out of this world culture is ingrained here with attractions and festivals like the UFO Museum and Research Center and the yearly UFO Festival. When you are done probing the little green men, you will find a slightly less mysterious side of Roswell. At Bitter Lake National Wildlife Reserve you can spot the animals and then go for a swim at Bottomless Lakes, after that you can do the artsy thing at Anderson Museum of Contemporary Art and the Roswell Museum and Art Center.
New York, New York
The 'Empire State' is home to the most inhabited city in America, supine national and state parks, and seaside communities that attract both domestic and international visitors. It would most likely be impossible to see all there is to see in this amazing place and trying to figure out where in New York you should visit can leave you in a bit of a quandary. Besides New York City and the misty Niagara Falls, the island of Manhattan homes the Empire State Building, Times Square and Central Park, while the Brooklyn Bridge links Manhattan with the borough of Brooklyn. The Statue of Liberty watches over New York Harbor and to the east Long Island's beaches, the Montauk Lighthouse, the opulent Hamptons and Fire Island beckons. Why don't you look at these not so common destinations?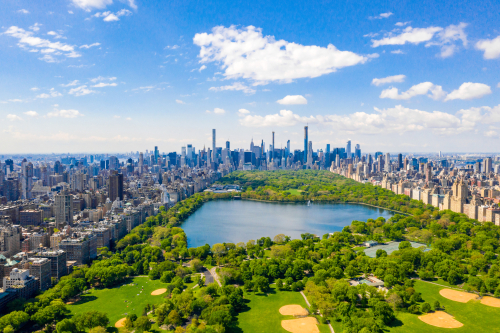 Rochester – This is the state's third biggest city (by population) and an excellent place to take kids with you. You'll come across several child-friendly museums, including The Strong National Museum of Play (the U.S.'s second largest children's museum) and the George Eastman Museum (the oldest photography museum in the world). During the warmer months, Rochester offers a variety of outdoor attractions. See the world's largest collection of lilacs at Highland Park Conservancy, or High Falls for panoramic views.
Saratoga Springs – The Mohawk tribe believed that the mineral waters in Saratoga Springs had healing powers, and who are we to argue with them? The town has grown into a vacation 'hot' spot and you can still partake in their restorative powers in any of its many mineral springs. Saratoga Spa State Park has 12 so a stop over here is highly recommended. Today, many travelers visit Saratoga Springs for its world-famous racetrack, the Saratoga Race Course. If you visit in August, you can attend the Travers Stakes, a premier horse racing event held at the venue. There's also the option of taking a walking tour of the facility.
Top US Landmarks in North Carolina
Historians don't quite know how the state earned its nickname, 'The Tar Heel State', but they believe it may have something to do with its past as a leading producer of tar and similar products. The diverse landscape, historic sites and vibrant arts and culture scene, make North Carolina an inviting destination all year round. You can enjoy skiing, horseback riding and hiking along the mountain ranges while the coast is a haven for many activities like surfing, kayaking, and fishing. Enjoy a stroll through the luxurious Biltmore Estate or walk where the Wright brothers made their first ever flight. Discover the cultural heritage of Raleigh or indulge in the food and festivities of Asheville. The Old North state may be old, but it still has a few surprises up its sleeves.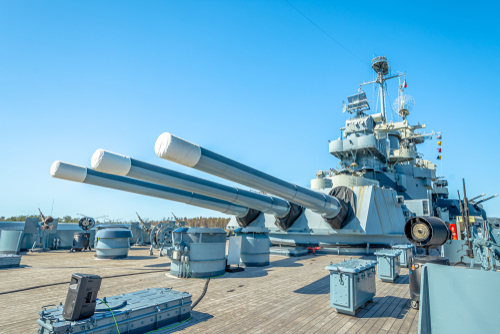 Asheville – a town with many labels where Southern charm and breathtaking landscapes fuse together with a buzzing art scene. This Home of Bluegrass, Haven for hipsters, Foodie destination and Beer City is a hard one to pin down. Lovers of the past get lost in the romantic gardens of the Biltmore Estate, food lovers can taste from a culinary cacophony of choices and lovers of hops and yeast can sample the brews of the city's many first-class breweries. With all this love around you can lounge through the River Arts District while thrill seekers hike, bike, zip line, and raft in the many parks and forests here. These personalities come together in Asheville to create something that is uniquely its own, with an identity that changes constantly, yet somehow remains true to its origins.
Charlotte – If you have a need for speed, and honestly speaking, what car driving human does not like putting the foot down a little? Here, they put it down a LOT! The Queen City is home to the Charlotte Motor Speedway and the NASCAR Hall of Fame, business is growing and the city is running smoothly. 'Not' downtown Charlotte is a business and tourist hub, art buffs and culture seekers hound Plaza Midwood and North Davidson. The south end is where you go to get a pint – some of the best breweries in the city serve world class local beer and food here.
National Treasures in North Dakota
North Dakota is dominated by the Great Plains. If you carry on the Great Plains eventually give way to the rugged Badlands near the border with Montana. Here the Theodore Roosevelt National Park straddles the Little Missouri River. At the Plains Art Museum in Fargo, you'll find modern and Native American art, while the Scandinavian Heritage Association in Minot celebrates immigrant history.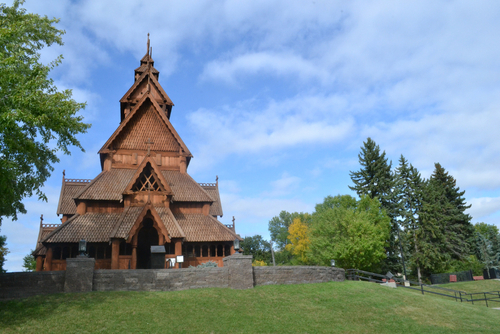 National Buffalo Museum – Driving along I-94, around halfway between Fargo and Bismarck, you will see the world's biggest buffalo – in concrete. It marks the National Buffalo Museum and rare white (albino) bison graze alongside their 'normal' kinfolk in its giant shadow. There is also a Frontier Village at the museum that features a number of old pioneer buildings, including a barbershop, church, drugstore, jail, schoolhouse, and post office. In summer you can tour all the historical sites, take stagecoach and pony rides, and indulge in the old-fashioned soda fountain.
Knife River Indian Villages National Historic Site – is located on an old Mandan and Hidatsa camping ground near Stanton. A number of villages have been rebuilt here in an attempt to preserve the culture. Today, this historic site introduces camps, field trips, and individuals to the native environment.
Tourist destinations in Ohio
There is something for everyone in Ohio, from sprawling parks with stunning waterfalls to bustling cities and college towns. Drive into the birthplace of aviation and you suddenly feel like you're in the heart of it all – (state slogan 1984). Dayton, Cleveland, Cincinnati and Columbus offer excellent cultural experiences, some of the best shopping in the state, and plenty of fun activities. For music fans, the Rock & Roll Hall of Fame at Lake Erie has become a pilgrimage destination. If you love music, this is the place to go.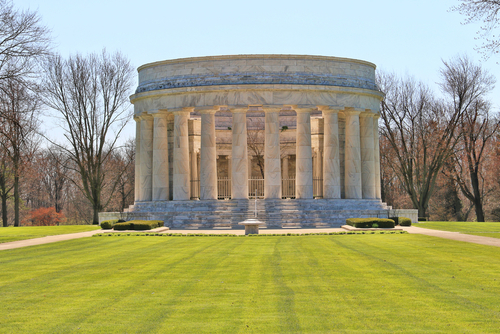 Canton – the Hall of Fame City, where the NFL was born and also where you can find the Pro Football Hall. You can see bronze busts of 300 or more Hall of Famers at the museum, as well as artifacts from recent players and Super Bowl championship rings. If chasing a pig skin around is not your thing, there is a quaint classic car museum – go there before visiting the many breweries, and end off at William McKinley Presidential Library & Museum.
Dayton – is a town of many attractions, but not surprisingly, most of them are focused on aviation and its history. A visit to the Wright Brothers National Museum offers you a glimpse into the lives of these pioneering pilots and a chance to learn more about the first practical aircraft they created. Additionally, check out the National Museum of the United States Air Force, the oldest and largest military aviation museum in the world, and if there is time fly past the National Aviation Hall of Fame.
Top US Landmarks in Oklahoma
Carrie Underwood says, "I want my permanent address to be in Oklahoma. Someday, when I get married and I have kids, that's where I want to raise my kids."
That my friends sounds like an invitation. Be careful though if you are driving. On July 16, 1935, Oklahoma City installed the first parking meter in the world. While you are there grab your boots and head on up to The National Cowboy Hall of Fame. And just to keep things interesting, did you know that the state capitol building is the only building of its kind with an oil well under it?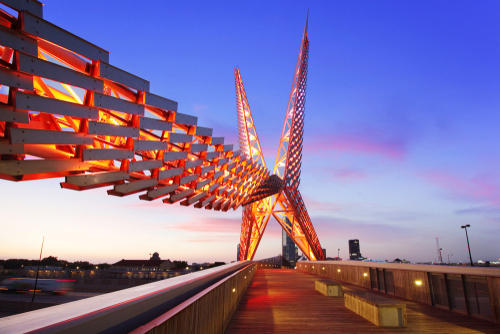 Route 66 – Route 66 runs from Chicago to Los Angeles, but the longest stretch runs through the state of Oklahoma. There are attractions of all and any waiting for you along this world famous slice of blacktop. In Clinton the Oklahoma Route 66 Museum and the National Route 66 and Transportation Museum in Elk City should satisfy your history hunger pains. Experience Route 66's history through immersive experiences such as a 1950s diner and changing exhibits. For oddball visits, shoot past the Blue Whale of Catoosa and in Tulsa, pull up the E-brake at the Golden Driller. Route 66 is road-tripping personified. Motorcycle museums, drive-ins and everything in between…enjoy your journey.
Lawton – On the complete opposite side of motoring, the Museum of the Great Plains in Lawton provides visitors with hands-on exhibits that reveal what it was like to live in the West among Native Americans and pioneers. Visit a train depot, a trading post, and a schoolhouse, among other historical buildings. You can unearth local culture at the Comanche National Museum and Cultural Center, or see 'The Holy City' – a series of buildings designed to resemble Israel during the Biblical period.
Top US Landmarks in Oregon
The Beaver State has some of the most beautiful scenery on the West Coast. Aside from miles of beaches and lush mountains, the surrounding areas are also home to tumbling waterfalls. Fortunately, many of these gems are very accessible from nearby urban areas and a bit of a drive can unearth something spectacular.
Salem – There's something for everyone in the state's capital. You can visit historical and cultural sites – the 19th-century Bush House Museum, Willamette University's Hallie Ford Museum of Art and the Oregon State Capitol – comes highly recommended. A farm-to-table restaurant network and the city's Ale and Cider Trail add to the foodie scene. Gilbert House Children's Museum and Riverfront Park are just two of the many family orientated destinations to explore.
Newport – The place for family! Start at an outpost of Ripley's Believe It or Not, before splashing out at the Oregon Coast Aquarium or Oregon State University's Hatfield Marine Science Center. The Yaquina Head Outstanding Natural Area features a beach with basalt rocks and an 1800's lighthouse.
Top US Landmarks in Pennsylvania
Known officially as the Commonwealth of Pennsylvania, the state is home to numerous towns, foodie spots, sports venues, and more. The Keystone State played a significant role in the construction of the United States of America – here, the Declaration of Independence, the Constitution, and the Gettysburg Address were written. The state (apologies), the commonwealth, is filled with a rich history, cheesesteaks and chocolate candy.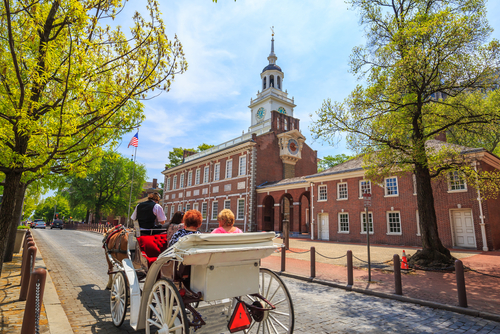 Gettysburg – This delightful town is not all about history. Secret small inns, family owned shops and 'farm to table' local fare and drinks makes for a surprisingly romantic getaway. But we know you are here because of the Civil War right? Among Gettysburg's many historical sites is Gettysburg National Military Park, the site where the bloodiest battle took place. Remember to save some time for the Jennie Wade House and the Shriver House Museum. To escape the dark past, meander around the Eisenhower National Historic Site or take a selfie at Sachs Covered Bridge.
Hershey – The Sweetest Place on Earth, and home to Hershey's Chocolate World. Feel like Willy Wonka and take a free tour to marvel at the creation of candy and chocolate. When you are all 'sugared' up, Hershey Park next door has all the chocolate-themed attractions your thrill seeking sweet tooth may need. For a slightly more tone-downed adventure, ZooAmerica North American Wildlife Park and Hershey Gardens are just the answer.
Top US Landmarks in Rhode Island
The Ocean State is known for its many beaches, the historic city of Newport, and for Providence, the up-and-coming capital city full of culture and interesting cuisine. You will love the pristine Block Island, easily accessed by ferry from the fishing village of Point Judith. Sand beaches and Colonial towns are the hallmarks of Rhode Island. The state has some large cities, including Newport – famous for sailing and mansions from the 'Gilded Age'. The capital, Providence has Brown University, Roger Williams Park and the landscaped Waterplace Park and Riverwalk, where you can peruse the renowned WaterFire art installation.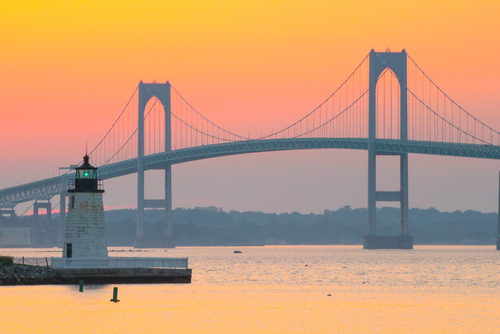 Providence – Often eclipsed by Boston, Providence is a historical powerhouse in its own right. A semi-secular democracy (the separation of church and state) was the idea behind this city, founded by exiled Massachusetts Bay colonist Roger Williams, in 1636. There are four colleges in Providence: Brown University, Johnson & Wales, Providence College, and Rhode Island School of Design. A small town with the culture and sophistication of a big city, Providence offers the best of both worlds. There are so many things to do in Providence, with its vibrant arts community, vast array of hotels, excellent restaurants, and renowned culinary scene.
Newport – A good start to your day here in this quaint New England port town is to get your blood pumping with a ramble along the scenic Cliff Walk trail. After that a visit to the notorious Newport mansions, particularly The Breakers, Marble House and Rough Point. Take some time to explore the National Museum of American Illustration, Fort Adams and the Touro Synagogue.
Top US Landmarks in South Carolina
'Hey y'all", simply means "Hello you (plural form)'all", and few words are so welcoming. Beautiful vistas, vibey cities, a rich history and Southern hospitality… welcome to South Carolina! The Palmetto State has a lot to offer you. Historic Charleston, characterized by picturesque pastel houses, Old South plantations, and Fort Sumter, site of the first shots of the Civil War. A little bit north of this is the Grand Strand, a stretch of coastline that includes golf courses and Myrtle Beach.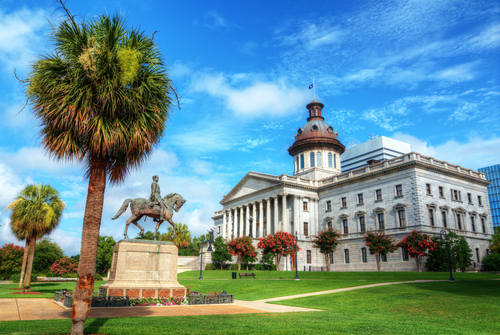 Charleston – Spooky cemeteries, cobblestones and trees draped in Spanish Moss, this is Charleston. Travel back in time as you walk past carriages and horses, down gas-lit avenues and antebellum buildings, but fear not, this city may be proud of its past, but it is not stuck in it. Spoleto Festival USA, world-class restaurants, interesting shops and contemporary art galleries keeps you firmly in the present. The Holy City oozes history. Resplendent homes are now museums and evidence is all around to highlight Charleston's involvement in shaping our country.
Beaufort – Oak trees line the streets, and homes from the Civil War era offer a glimpse of an earlier time. Learn more about the town's past by taking a walking or carriage tour around town, then visit the Beaufort History Museum. Penn Center is also a great place to educate yourself on the local Gullah Geechee people. Once you've filled up on history, head to the Beaufort River to kayak or paddleboard, or head to the Cypress Wetlands for world-class bird watching.
Top US Landmarks in South Dakota
The state's official nickname is also the main reason thousands of people pack their bags, rent a vehicle, and head to South Dakota to see Mount Rushmore. Drive along and rolling prairies give way to the majestic Black Hills National Forest – home to the iconic presidents' sculptures as well as the Crazy Horse Memorial.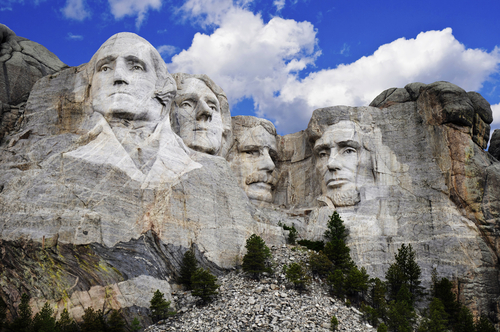 Mount Rushmore National Memorial – Gutzon and Lincoln Borglum directed the completion of the 60 ft sculpture, carved directly into the mountainside of Mount Rushmore in 1941. Besides the depictions of the four presidents there are also interactive displays and a museum.
The Brothel Deadwood – Deadwood's second-story brothels were a popular feature from 1876 through 1980. Although difficult and uncomfortable to talk about, this aspect of Deadwood's past had a lasting effect on the community. To create the feeling of stepping back in time, eight rooms feature period-appropriate furnishings. In no sense is the Brothel intended to glamorize prostitution, nor is it intended to endorse or condemn it. As a matter of fact, it's a key part of the Deadwood narrative. Only for 16 and older.
Top US Landmarks in Tennessee
There are thousands of caves in Tennessee, and hundreds of beautiful waterfalls. The breathtaking scenery of the Smoky Mountains and the Mississippi River will impress even the most cynical of city children. Besides the natural wonders the state is home to the King of Rock and Roll and the home of Country music, Nashville. Plug in your playlist, turn up the volume… and drive like you were in a country song wearing blue suede shoes.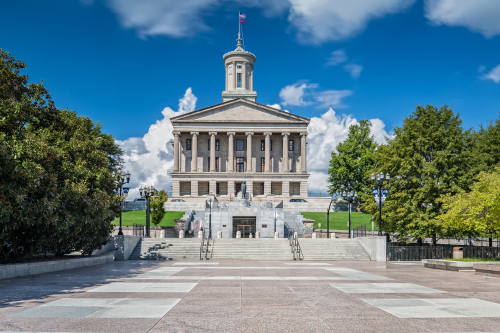 Nashville – is country music, and vice versa. Taylor Swift, Faith Hill, Tim McGraw, Reba McEntire and Florida Georgia Line all started here in a bar lining Broadway. Soak up the music with free, live music in practically every establishment, there is no shortage of talent here. Check out the Grand Ole Opry and the Country Music Hall of Fame. Over the years, the city has evolved into a city of a lot of things for a lot of different people. Many East Coasters and Midwesters travel here for weekend getaways and it is a foodie paradise for affordable Southern cooking and fusion cuisine.
Chattanooga – The 'Scenic City', has undergone a revitalization over the past few decades that has prioritized sustainability, boosting diversity, yet maintaining that small-town feel. Chattanooga was a historic Civil War battlefield site and served as the Southern railway hub in the 19th and 20th centuries, putting it on the to do list of most history buffs.
Top US Landmarks in Texas
The state of Texas is the second largest in the US behind Alaska, and nearly three times larger than the United Kingdom! Texas is a place of extreme diversity, different climates and contrasting landscapes. From beaches along the gulf coast, beautiful pine woods to the desolation of West Texas, and the swamps of East Texas.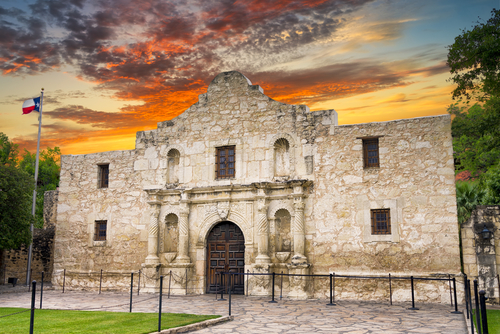 Corpus Christi – Before Spanish colonists arrived in the 1500's, the Karankawa Indians built thriving communities in this coastal area. The museums help you explore the history of this sunny city. It offers a variety of museums beyond its historical attractions, from those devoted to art and science to those dedicated to naval aviation and music stars.
San Antonio – While the "King of the Wild Frontier" may have died at the Alamo, San Antonio still holds on to the pride that Davy Crockett and his friends exhibited in 1836. Besides the Alamo, you can explore several other famous missions, all of which are now part of the San Antonio Missions National Historical Park. This Texas city's theme parks, exceptional museums, professional sports teams and famous River Walk are particularly popular with families. San Antonio is also a rapidly developing culinary destination, with an abundance of Tex-Mex restaurants and new barbecue joints as well as chic upscale restaurants. With so much to eat, do and see, it's going to be pretty difficult to "Remember the Alamo!"
Top US Landmarks in Utah
From Salt Lake City's film festivals to the ski slopes in Utah, the state is full of natural beauty and abundant activities. Much of this protected land has been turned into national and state parks, including the tallest mountain in Utah and the deepest slot canyons. The Beehive state is home to some of the best skiing in the nation, with mountains near Salt Lake City receiving 500 inches of snow annually. Mormons settled here in the 19th century, and today approximately 60 percent of state residents are members of the church.
Salt Lake City – Pioneers believed that the Great Salt Lake in the area was inhabited by monsters and giants during the early 19th century. The city became home to the Church of Jesus Christ of Latter Day Saints in 1847, but those who are familiar with Salt Lake will tell you it's more than just a spiritual center, Salt Lake is also a vibrant cultural hub and an excellent base for hiking and skiing. Stunning mountain ranges surround the city skyline and the Great Salt Lake is awe-inspiring.
St. George – is well positioned so that it acts as a convenient headquarters for a multitude of outdoor activities. Even if you're not an outdoor junkie, the town still has many attractions and is worth a visit. It takes just one hour to get to Zion National Park, and you can reach Snow Canyon State Park in less than 20 minutes. The hiking trails around St. George, as well as the nearby camping areas, are some of the best you'll find in the area. There are several attractions and activities related to St. George's Mormon history, such as the St. George Temple and the Brigham Young Winter Home. Pioneer Park, along with the adjacent Red Hills Desert Garden, are also must-see attractions.
Top Visitor Destinations in Vermont
The Green Mountain State is known for its natural landscape, which is primarily forested. This area is famous for the more than a hundred, 19th-century covered wooden bridges, as well as its maple syrup production. A beautiful place with many hiking trails and slopes for skiing, Vermont is the home of the popular congressman Bernie Sanders. There's a nice combination of natural US landmarks and historical sites in the area.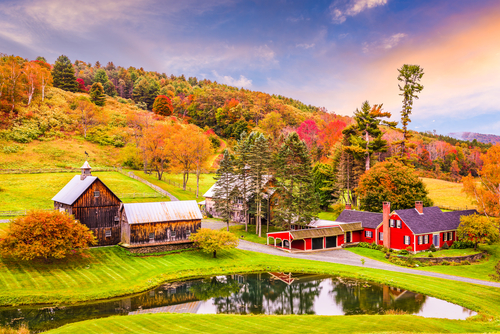 Stowe – The Trapp Family Lodge in Stowe is where the melodious Trapp family (from "The Sound of Music") settled because it reminded them of their Austrian home. With its unique fusion of classic New England charm, malt shops, and general stores, along with charming churches, the town is nestled between the Greens Mountains and the CC Putnam State Forest. Mountain Mansfield, the tallest peak in California, towers over town, offering world-class skiing and other winter sports opportunities just beyond main street. You will be excused if you start imagining yourself in Europe.
Marsh-Billings-Rockefeller National Historical Park – On the historic Burlington Waterfront, ECHO Lake Aquarium and Science Center showcases a whole new world. FrogWorld, Action Lab and the Land of Opportunity are among the aquarium's fantastic exhibits for kids. There are a number of educational and ecological programs for children and adults that focus on Lake Champlain's ecology, culture and history.
Top Visitor Sites in Virginia
Virginia is beautiful no matter what season you visit and with each season, beaches, lakes, mountains, rivers, cities, and landscapes change to form a whole year of new experiences.
The State is also a great place to go on a romantic getaway. In fact, the state uses the slogan, "Virginia is for lovers." Even if you have been together for years, visiting a romantic destination will help your relationship, and Virginia is one of the best. Enjoy a relaxing weekend getaway with your partner at the beach or at one of many amazing resorts and don't hesitate to visit some of these top US landmarks.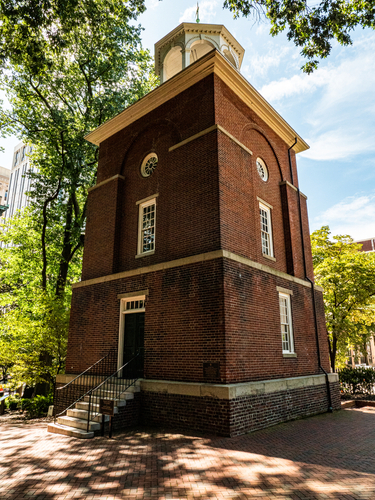 Charlottesville – One of the bigger US landmarks the city offers more than just a trip down memory lane, as its young, diverse population attests. In this hip area, you'll find coffee shops and hookah lounges, as well as a summer music pavilion that features up-and-coming indie performers. But you are constantly reminded that this is "Mr. Jefferson's town" and his spirit shines through everywhere. When strolling through the vegetable gardens at Monticello or through the columns of the University of Virginia Academical Village, you will feel his presence.
Richmond – A city of paradoxes with historians celebrating its part and past in creating America and students, young families and hipsters calling it home today. Visitors to St. John's Church can step back in time to see Patrick Henry's iconic, "Give me liberty, or give me death!" speech. Discover how the past of the city shapes its present by visiting the Virginia State Capitol.
Historic Landmarks in Washington
It won't take long for you to realize you've arrived in Washington when you see the rugged terrain of the Pacific Northwest before you, despite having just left Seattle moments ago… and there is a coffee shop on every corner.
In The Evergreen State you can be in a rainforest in the morning, hike at the National Volcanic Monument in the afternoon, and watch the sunset while breathing in the aroma of desert sage. That's before you even get started with all the numerous US landmarks.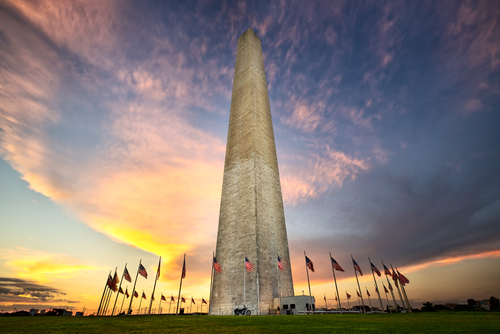 Seattle – In spite of often overcast weather, Seattle's laid-back atmosphere and diverse neighborhoods make up for it. It is home to some of the best coffee in the country, as well as a thriving arts scene, rich history, and a number of interesting outdoor activities. Kayaking, hiking, camping and whale watching are among the local pastimes in this water-surrounded city (which lies between Puget Sound and Lake Washington). Not only that, but you can also see the Olympic Mountains and Mount Rainier from many parts of the city; with the ski slopes not too far away.
Spokane – Spokane is the second-largest city in Washington after Seattle. Visit the Riverfront Park, home to the 1974 World's Fair, and amble along the banks of the picturesque Spokane River. Among the top attractions of the city is the John A. Finch Arboretum, the Northwest Museum of Arts and Culture and Spokane Falls. There are also several popular golf courses in the area, and many breweries have also opened in Spokane in recent years.
Places to visit in West Virginia
West Virginia is situated between the Blue Ridge Mountains and the Ohio River (some of the most popular US landmarks), and offers an array of magnificent landscapes and US landmarks to discover.
Mountain ranges, forests, whitewater rivers, and beaches make the area perfect for outdoor activities of all kinds. Most tourists ignore the state, so you have all of the breathtaking scenery to yourself. It may be quite sparsely populated and rural, but there are some lovely mountain towns you can visit, with many interesting Civil War historical sights and cultural landmarks. Explore West Virginia's gorgeous landscape and natural wonders. It's a hidden gem.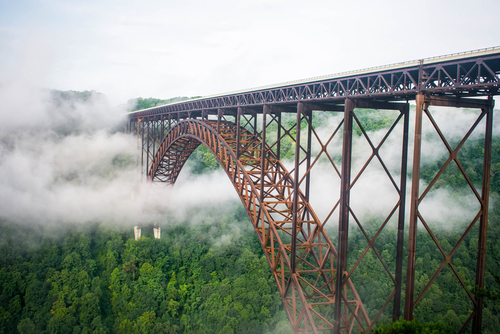 Berkeley Springs State Park – Featuring a mineral spa that's been used for centuries, Berkeley Springs State Park is a great place to relax, unwind, and rejuvenate by bathing in the healing waters. Warm mineral spring water bubbles up from natural mineral springs, which are renowned for their healing powers.
Charles Town – not Charleston, is an iconic historic town in the state that was named after George Washington's youngest brother and features many US landmarks. There are still many of the family's former homes and farms scattered about this small town, and the atmosphere is charming and small-town like. If you're interested in learning more about the region's rich history, check out the Jefferson County Museum, which has a number of interesting artifacts and photographs on display. The laid-back town of Charles Town is a perfect starting point for exploring Shannondale Springs Wildlife Management Area. A water park and a casino are also nearby if you want to go splashing around and try your luck.
Visiting Wisconsin
Wisconsin has coastlines on Lakes Michigan and Superior as well as forestland and farms in its interior. There is also the Harley-Davidson Museum, which offers demonstrations of finely tuned classic motorcycles, in Milwaukee, the largest city in the Badger State. Milwaukee is home to many beer companies, some of which offer brewery tours.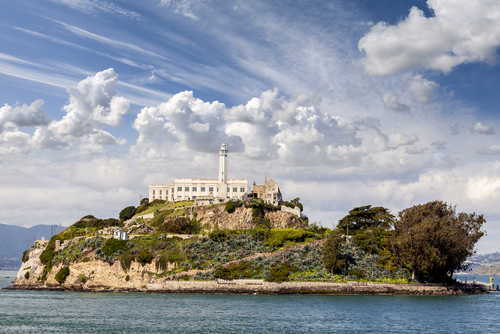 Milwaukee – The scenic waterfront of Milwaukee is a popular area for biking along the 85 miles of bike lanes. Additionally, the city is into finer things – craft beer, for example. While we're talking about beer, did you know that Milwaukee produces a lot of it? Milwaukee gave birth to two of the world's biggest beer brands, as well as the legendary Harley-Davidson motorcycle, examples of which can be seen at the Harley-Davidson Museum – one of the top US landmarks in the state.
Door County – is a great destination for outdoor enthusiasts and history buffs. Aside from 300 miles of shoreline, the county is home to scenic lighthouses and small 19th century villages. The Cherry Blossoms in spring attracts people from all over but there is something to do all year round. Remote islands can be reached by boat for travelers seeking a getaway and besides panoramic views practically everywhere, charming bed and breakfasts, historic inns and cabins provide lodging while you visit some of the US landmarks in the state.
Where to go in Wyoming
Wyoming is a great place to explore the dramatic natural landscape of the American West since nearly half of its territory is public land offering awesome US landmarks. A sparsely populated state, Wyoming offers some of the most spectacular landscapes in the country, from Yellowstone's thermal geysers to Grand Tetons' jagged mountains.
The Cowboy state is proud of its Wild West heritage and the cowboy culture is alive and well, whether you're watching a rodeo, eating a chuckwagon dinner, or dancing the night away at a country-music dance hall.
Cheyenne – Founded in 1867, Cheyenne is the Cowboy State's capital and largest city with so many US landmarks to visit. The main attractions of Cheyenne are its many historical monuments and museums. The 1887 Renaissance-style Capitol Building is adorned with gold leaf. Its stained-glass interior, grand staircase, and checkerboard marble floors, as well as its leaf-shaped dome, make it a worthwhile visit. Native American art and United States Cavalry artifacts are on display at the Nelson Museum of the West. Cheyenne hosts the largest outdoor rodeo in the United States, Cheyenne Frontier Days, in July. There are free pancake breakfasts, nightly concerts, and parades, as well as numerous rodeo events.
Cody – Wyoming's cowboy heritage can't be experienced without a visit to Cody, which offers a window into the state's story as well as access to some of the best US landmarks. Buffalo Bill Cody founded the city near Yellowstone in 1887. Five museums in Cody's Buffalo Bill Center feature exhibits that examine William F. Cody's colorful life. Also worth a visit is the Old Trail Town, which has a number of restored Western buildings. Cody holds rodeos almost every night of the summer, earning it the title of Rodeo Capital of the World.
Rent a car for your big American road trip
With all of this information about the top US landmarks at your fingertips, all that's missing is your car and these awesome tips:
Of course, you don't have to stop with US landmarks… Check out our post about how to travel the world for free.
Our website is designed to help you choose the best car for your road trip to visit US landmarks and the best car rental companies to find the best deals.